Best of Vietnam Tour – 12 Days
$1,295
Tour code: ASW-VN-C12
Duration: 12 days
Destination: Hanoi / Halong Bay / Hue / Hoian / Ho Chi Minh City / Mekong Delta / Cu Chi Tunnels
Best of Vietnam Tour 12-day tour is ideal for travelers with more time budget, featuring many attractions that Vietnam has to offer. Highlights include Halong Bay's overnight cruise, Golden Hand Bridge, world's heritages of Hue and Hoi An, a homestay in Mekong Delta and two central urbans Hanoi and Ho Chi Minh city.
TOUR ITINERARY
Day 1: Welcome to Hanoi
Meals: N/A
Fly to Hanoi, VIETNAM
Welcome to Vietnam.
– Upon arrival at Hanoi Airport, obtain your Vietnam visa ( with pre-approval letter) , and then clear Immigration and Customs.
– After collecting your baggage, exit the airport to meet outside our driver. He/she will be holding a sign with your names on it.
– From the airport, you will be privately transferred to your lovely hotel.
– Settle in and enjoy the rest of the day at your leisure.
Overnight in Hanoi
Day 2: A palace, a museum, pagodas in Hanoi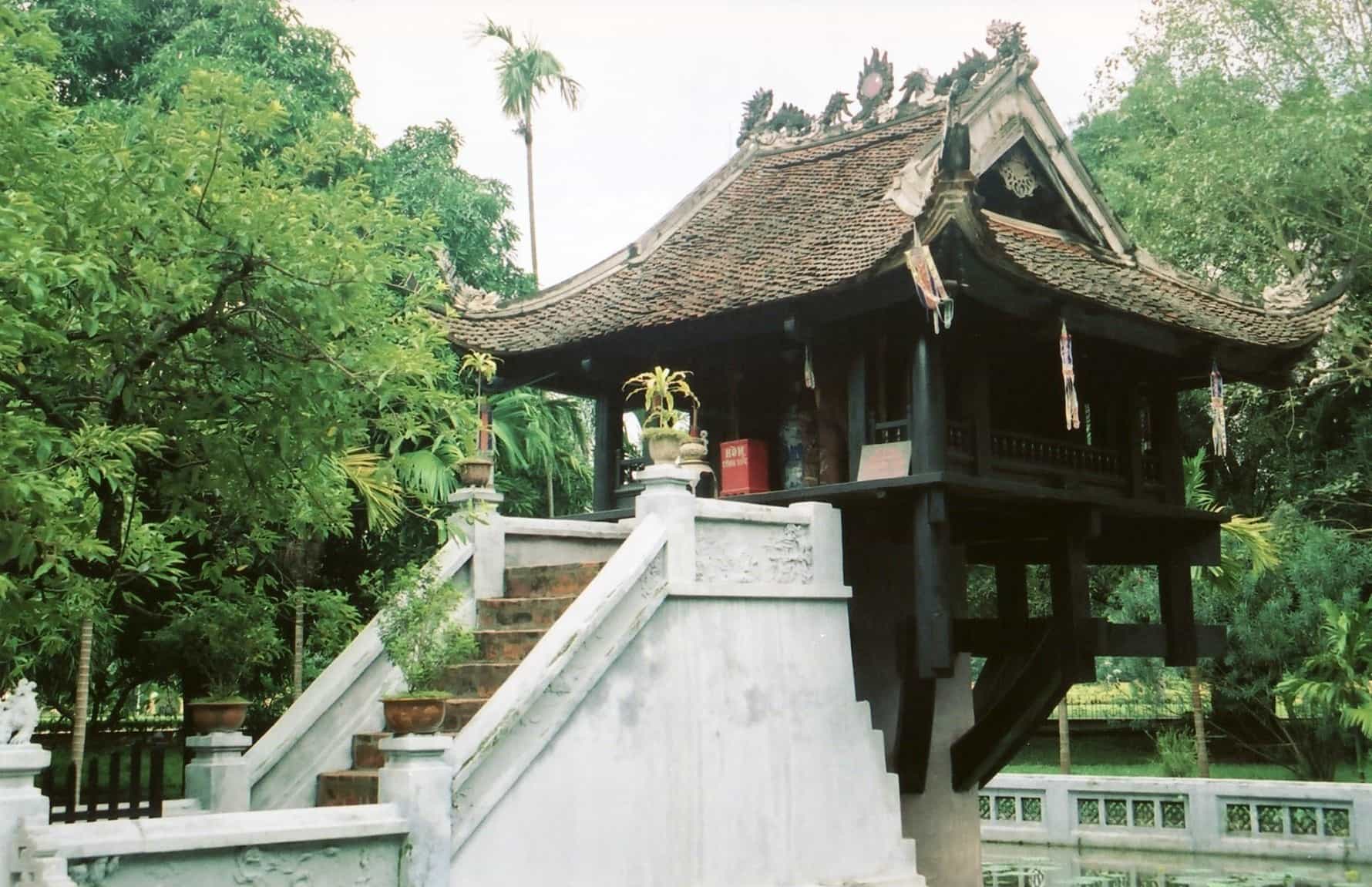 Meals: Breakfast
– You'll head out with your guide and begins with a visit Ba Dinh Square to see Ho Chi Minh's Mausoleum, the museum to his life and the simple cottage where he lived and worked, along with his "house on stilts" and his final resting place; and take in Hanoi's famous One-Pillar Pagoda, constructed in 1049 to resemble a lotus blossom.
– Continue to the Museum of Ethnology, where we'll learn about the fascinating cultural diversity of this ancient land.
– This afternoon, drive through Colonial Hanoi, seeing the Opera House and other local sights.
– Go inside infamous Hoa Lo Prison ("Hanoi Hilton"), where Senator John McCain and Douglas "Pete" Wilson were once imprisoned,
– And continue to the Temple of Literature, which dates back to 1070 and is dedicated to the cult of Confucius.
– Next enjoy an electric tram tour or cyclo tour through the Hanoi's Old Quarter, a network of narrow alleys and shop houses also known as "The 36 Streets." This is a wonderful place to watch the local life, and peruse items from fabrics to crafts to exotic medicines.
– Enjoy a traditional Vietnamese water puppet performance, a uniquely North Vietnamese art form celebrating rural life and folklore for over 1,000 years, this evening.
* Please note
: The city tour program is flexible. Your guide will be more than happy to
adjust the tour itinerary to suit you.
You can skip one site or add another if you so wish.
Overnight in Hanoi
Day 3: Hanoi – Halong Bay/Overnight cruising on Halong Bay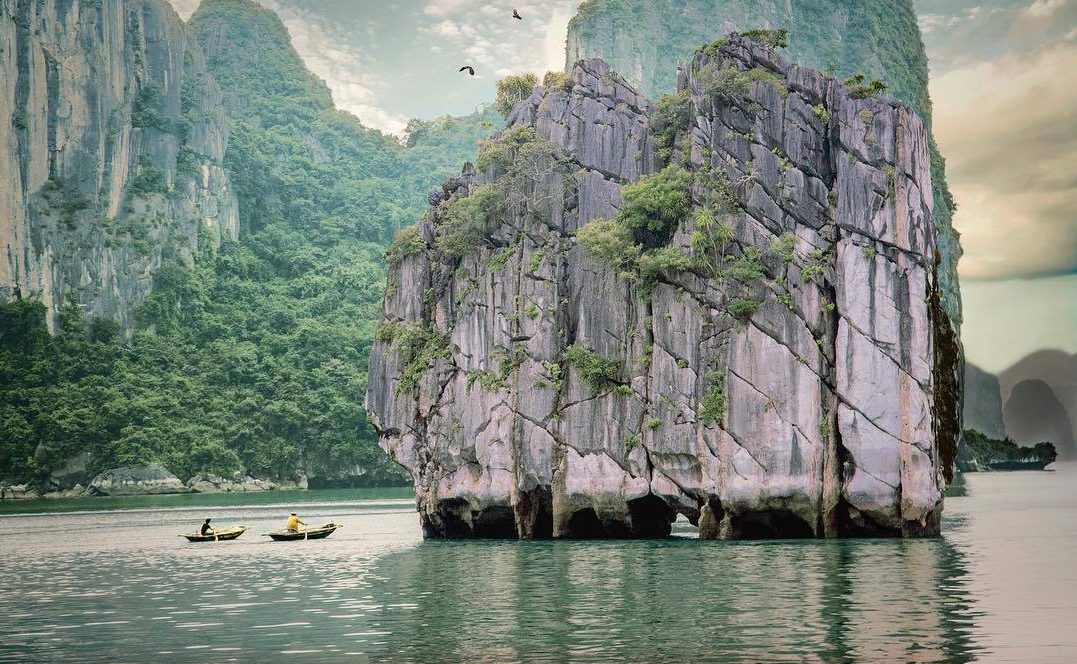 Meals: Breakfast, Lunch and Dinner
– After breakfast you will leave Hanoi for the 3.5 hour journey to Halong Bay, passing through a number of North Vietnam towns and villages.
– Upon arrival you will be welcomed aboard your traditional junk; designed in the same style as those that have sailed the bay for 100's of years. Begin a relaxing and unforgettable cruise around the breathtaking and unique limestone karsts and islets. A delicious fresh seafood lunch will be served as you cruise this spectacular bay, a UNESCO listed site.
– After lunch you will explore some of Halong Bay's famous caves by bamboo boat or kayaking based on your preference.
– And then reach on the top of Soi Sim beach to have a panorama view of Halong Bay. All activities arranged by the cruise are on a shared basis.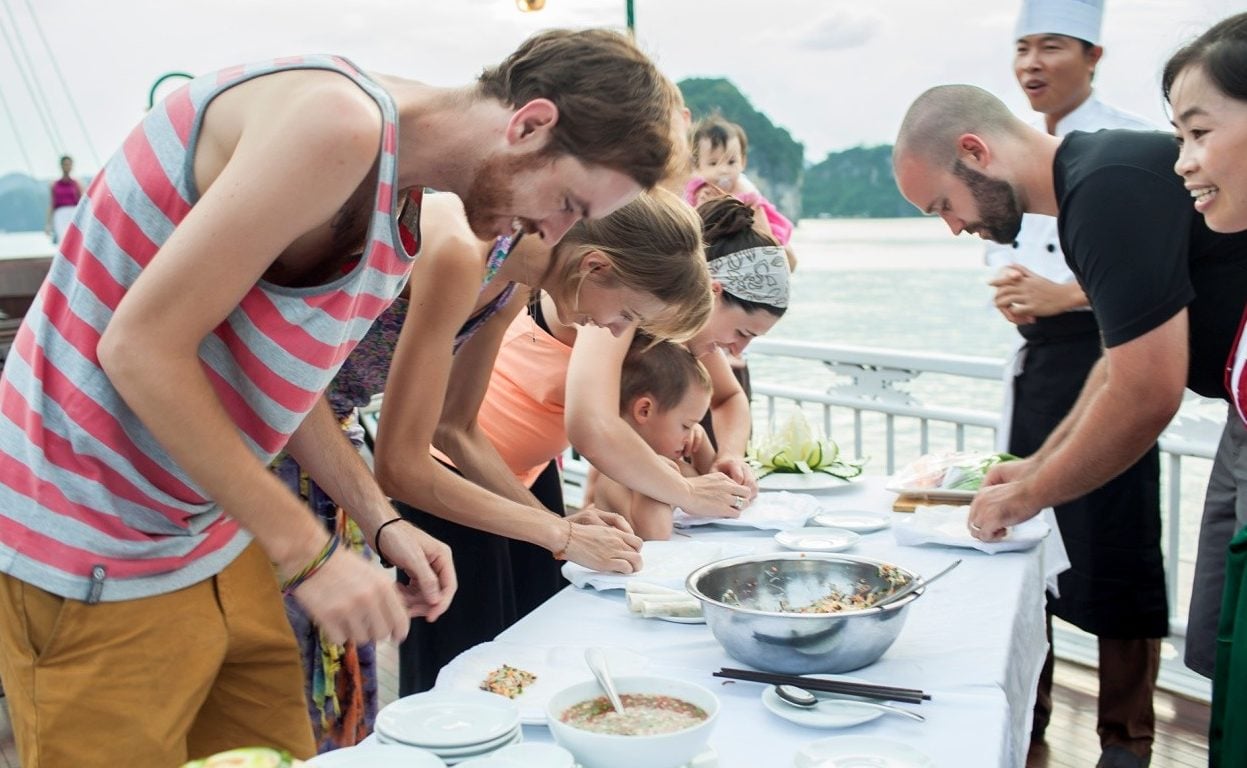 – Return to your junk boat to watch a cooking class or fruits & vegetable carving on sundeck – How to make spring rolls. Then enjoy Sunset Party together and Happy Hour (buys two drinks, gets one free from 18.00 to 19.00). It is time for chit chat and relaxing before enjoy your dinner and evening activities around the bar.
* Please note: Program may differ slightly base on cruise ships. An extra night can be added to the program. If your time is flexible, we highly recommend it.
Overnight Halong Bay Cruise on traditional style cruise (junk)
Day 4: Halong Bay – Fly to Hue via Hanoi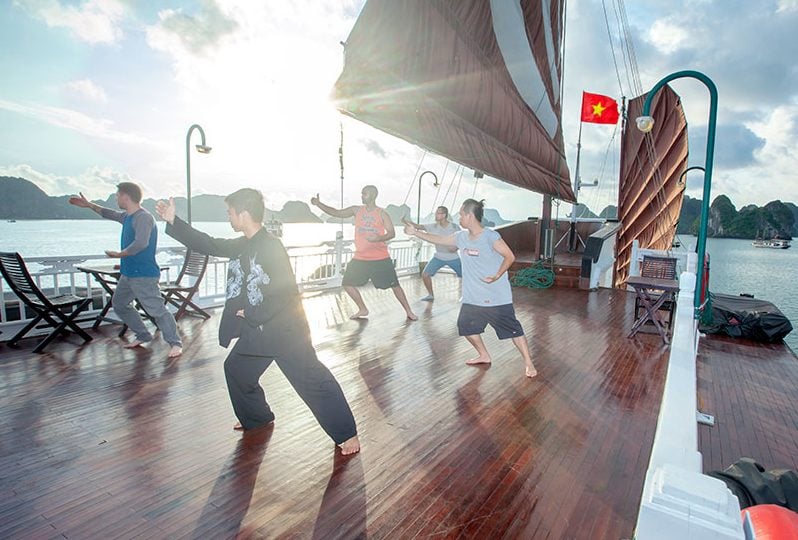 Meals: Breakfast and Lunch
– Wake up to see the sunrise over the spectacular horizon, reflecting in the pristine waters of the bay, with a cup of tea or coffee. Then join a Tai Chi class on the sundeck if you wish before enjoying breakfast in the fresh air. Continue to sail around this natural wonder.
– Visit to the Sung Sot Cave by walking up about 100 steps to the cave entrance and tour the cave for approximately 45 minutes. Walk down about 100 steps and return to the boat. (Proper shoes are highly recommended)
– Return to the boat then check-out of the cabin. Start cruising towards the harbor while an A la carte lunch is served. The crew will bid you farewell and you disembark with our tender boat to the Tuan Chau Pier.
– Return your Hanoi hotel by cruise's shuttle bus to collect big baggage and take a private transfer to Hanoi airport for your short flight to Hue, Vietnam's most beautiful city, and now a UNESCO World Heritage Site, located on the central coast of Vietnam.
– Fly Hanoi to Hue on Vietnam Airlines VN 1905, departing 19:05, arriving 20:15 Economy Class – Issued By Asianway Travel (Luggage allowance: 20kgs +7kg hand bag)
Welcome to Hue.
– Upon arrival at Phu Bai Airport. After collecting your baggage, exit the airport to meet our driver. He/she will be holding a sign with your names on it. From the airport, you will be privately transferred to your lovely hotel. Settle in and enjoy the evening at your leisure.
Overnight in Hue
Day 5: Hue Full day visiting
Meals: Breakfast
Morning tour to the Imperial Citadel & Thien Mu Pagoda
– This morning visit the Imperial Citadel and the Forbidden Purple City nearby. Modeled on the Forbidden City in Beijing by the Nguyen emperors in the early 19th century, the city was badly damaged during the war but the imposing city walls surrounded by a large moat afford good views of Hué. The palace retains a feeling of its past scale and importance, with detailed stonework and pavilions and it is at the moment in the process of being restored to its former magnificence.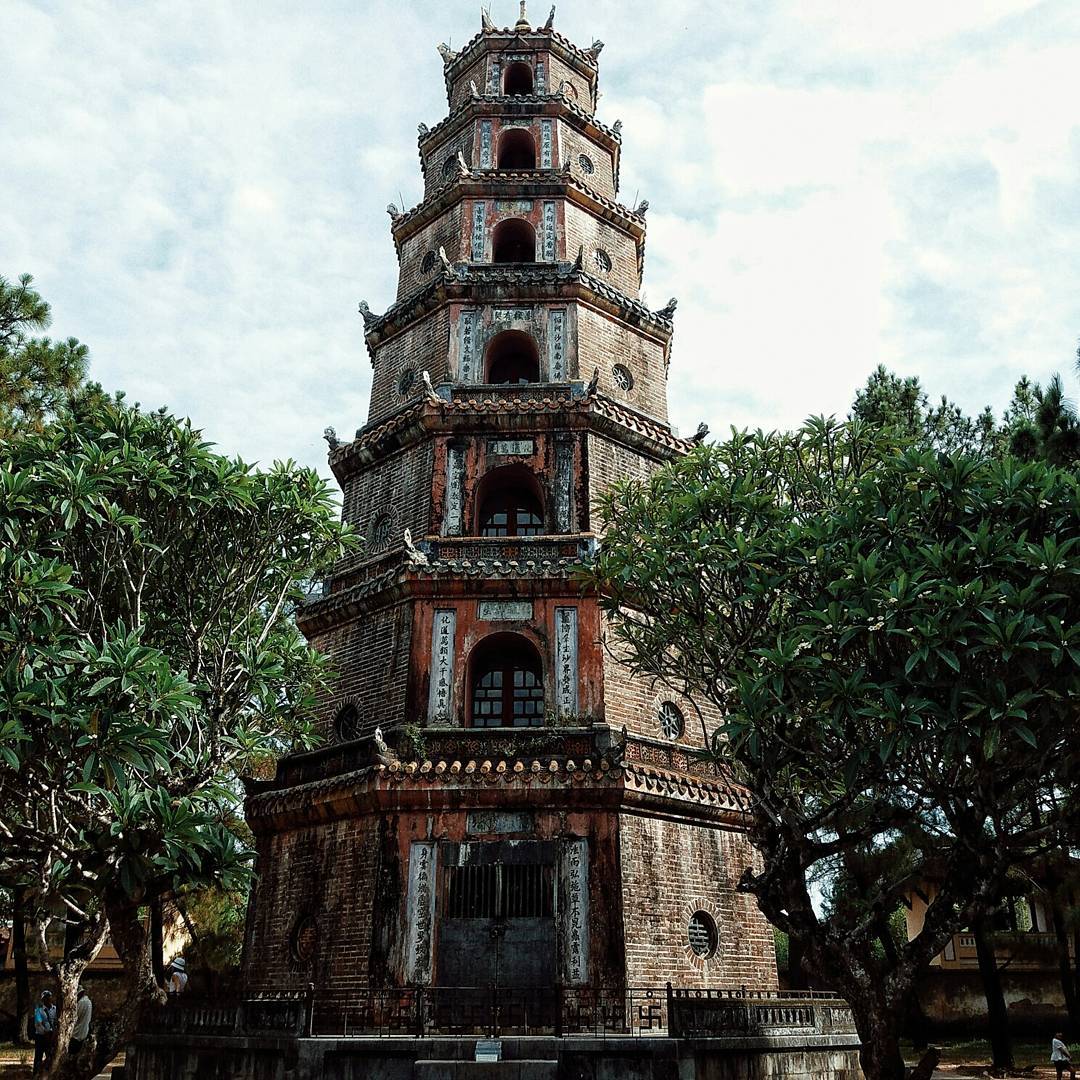 – Continue to Thien Mu Pagoda, sitting on the riverbank outside the city, this octagonal seven tier stupa has long been regarded as the symbol of Hué and was founded in 1601. It is still a site of Buddhist worship and its huge bell is said to be audible from the city.

Afternoon tour of Royal Mausoleums:
– After lunch at local restaurant (on own account) you'll continue to explore Emperors Tombs Hue's environment is dotted with tombs of past emperors of the Nguyen Dynasty. Construction of the tombs was meticulous carried out starting whilst the king was still alive in order to ensure his comfort in the next life. Most of the tombs have courtyards, a temple for worship, statues of elephants and figures and a pond, but the layout of each is different reflecting differing each king's personality and style. They have a lovely peaceful atmosphere. Khai Dinh and the tomb of 19th-century emperor Tu Duc, considered the most beautiful mausoleums around Hue. Each ruler of the Imperial City built his own tomb during his reign.
Overnight in Hue
Day 6: Hue – Ba Na Hill/Golden Bridge – Danang – Hoian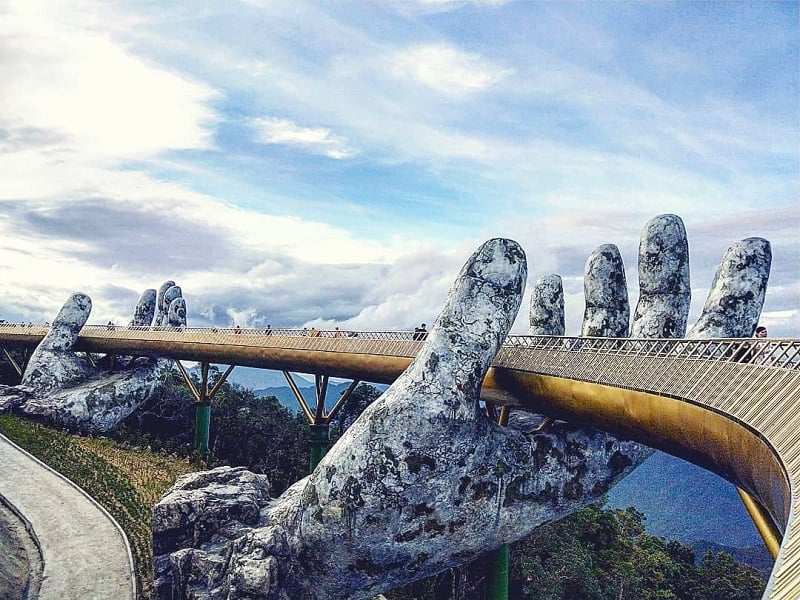 Meals: Breakfast and Lunch
– This morning, you will take a road journey from Hue to Da Nang. Prepare your camera for beautiful panorama view of Lang Co bay and Hai Van Pass. –
Drive to Ba Na Hill. Recently, Ba Na Hills was honored as among the Top 5 at the "Honors and Awards ceremony of Viet Nam Tourism Award 2016". This is the second year consecutively Ba Na Hills has received this only annual award of Vietnam Tourism Industry.
Since the very first day of operation, Ba Na Hills Resort has continued to innovate, providing new and novel experience to visitors. Additionally, Ba Na Hills is also the image of a joyful and friendly resort with a chain of festivals taking place throughout the year: Flowers Festival in Spring, Wine Festival, Summer Cheering Festival, Street Carnival, etc. Right at this moment, Ba Na Hill proud of Golden Hand Bridge, which has been voted as "Top best places to visit in the world" by Time Magazine.
– Take a cable to go down and get back on your car for driving heading to Hoian.
Check in your hotel in Hoian.
Left of time, you can relax or visit the ancient in dark.
Overnight in Hoian
Day 7: Biking to Cam Thanh and Tra Que Village – Walking in Ancient Town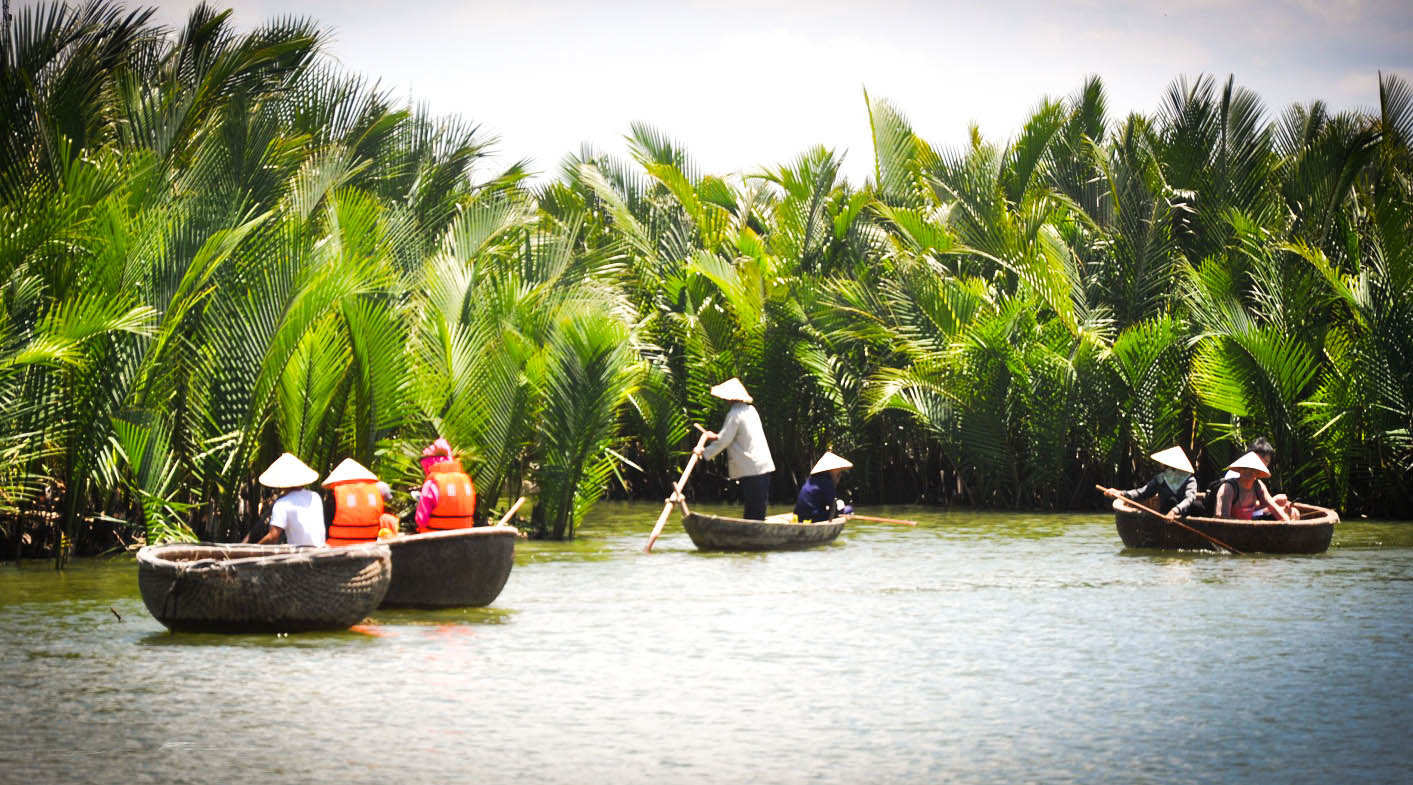 Meals: Breakfast and Lunch
– Start this morning with a biking trip to Cam Thanh Village. Stop to take some beautiful photos. Arrive at the village of fishermen Van lang-Cam Thanh.
– Arrive at the village, embark on a sampan bamboo basket: rowing competition, practice of fishing technique. Take a little rest in the house of fisherman (Mr. Phong) with the welcome green tea, a beautiful walk in the village to see the daily activities of fishermen.
– Continue biking to the Tra Que herbal village passing through the rice fields, fishponds…A quick stop at the local market – Ba The where local people exchange their self-consumption in the region.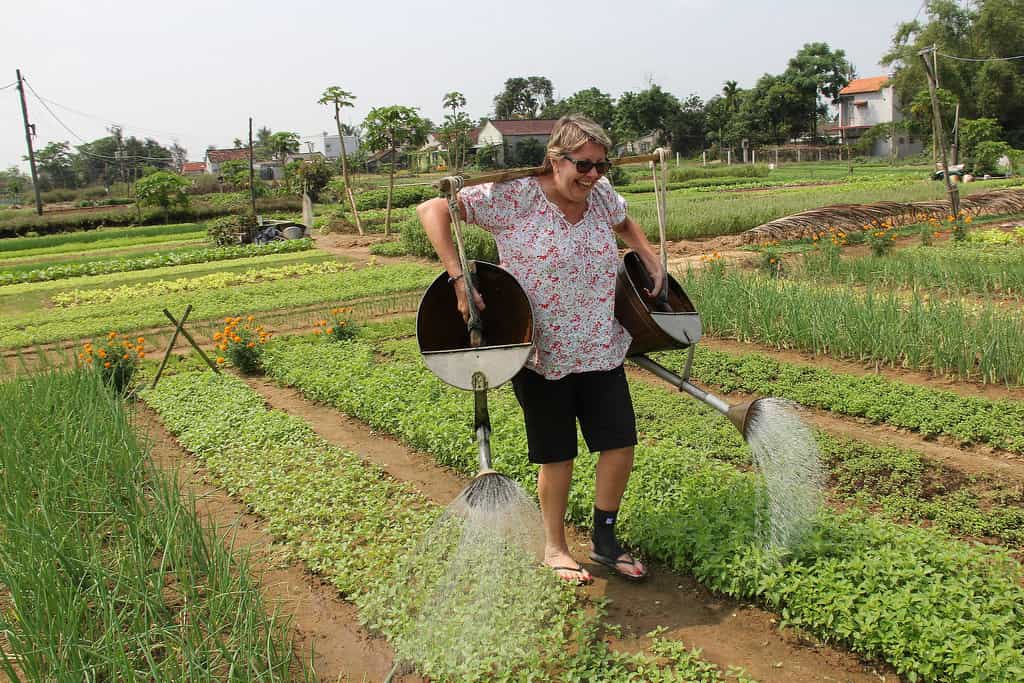 – Arrive home gardener (Mr Chinh), you are delighted to be a real gardener by working in the field with the skill, patience (raking, fertilizing, cultivating and watering soil).
– Back to Mr Chinh's home. Relax by a foot massage with medicinal herbs that planted in the family garden. Prepare vegetables and herbs from Tra Que, small pratice of cooking the dishes: crispy pancake (meat, shrimp, beansprouts…), spring rolls of Hoi An, Tam Huu, grilled fish in banana leaf… Enjoy the dishes you made.
After that, biking back to the ancient town.
We will discover Hoi An Ancient Town to see how the traditions of the past are treasured in the present in town along the Thu Bon River.
– Touring Hoi An's historic highlights such as well-preserved, centuries-old streets, dwellings, temples and pagodas; Explore its shop-lined streets, view the red-painted Japanese Covered Bridge – the three Chinese characters over the door mean "bridge for passers-by from afar" and Meet the 200-year-old "Phung Hung" house, noted for its unique architecture. What you'll see there will reveal much about the lives of Hoi An merchants long ago.
Overnight in Hoian
Day 8: Hoian / Ho Chi Minh City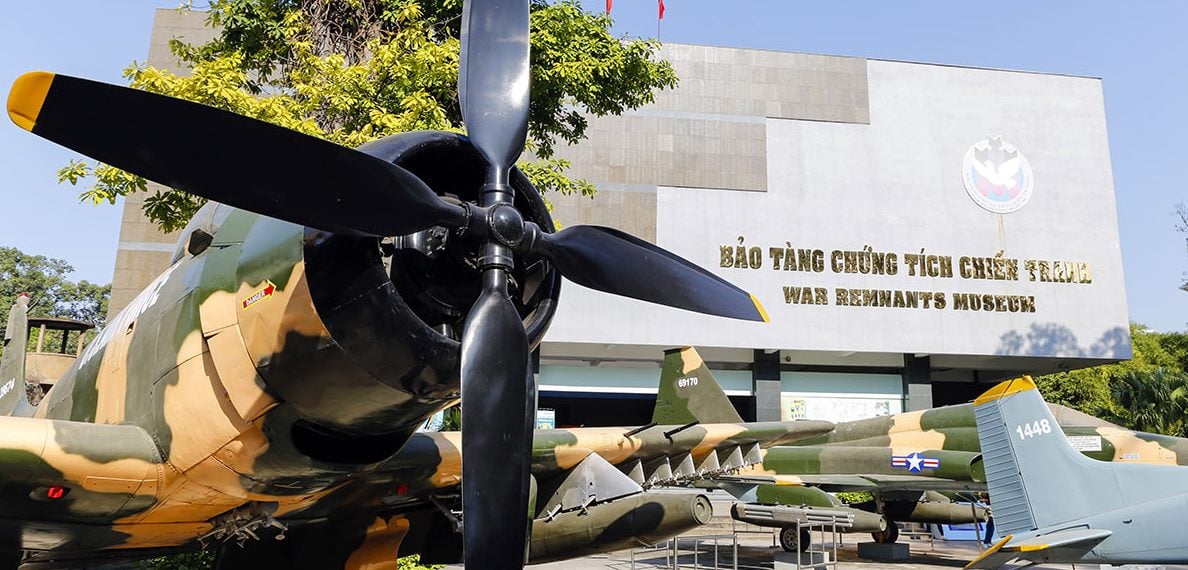 Meals: Breakfast
– Morning, you'll be transferred to the airport in time for your flight to Ho Chi Minh . Fly Danang to HCMC on Vietnam Airlines VN 7129, departing 09:35, arriving 10:55
Welcome to HCMC.
– Upon arrival at HCMC Airport. After collecting your baggage, exit the airport to meet outside our guide. He/she will be holding a sign with your names on it. From the airport, you will be privately transferred to your lovely hotel .
Afternoon city tour :
We'll discover Saigon's historic landmarks including the War Remnants Museum, established in September 1975 in Ho Chi Minh City, it contains countless artifacts, photographs and pictures documenting some of the less heroic activities carried out by the US army in Vietnam. Planes, tanks, bombs and helicopters are also on display.
– Next visit the FITO Museum, it is the first museum of Vietnamese medicine. On display are nearly 3,000 items dating back to the Stone Age. Exhibits include tools used to prepare medicine, knives, mortars and pestles, documents and objects from a traditional pharmacy. The museum regularly screens a documentary about the history of medicine. Continue visiting to the 1880's General Post Office and the late 19th century Notre Dame cathedral, located in a peaceful part of the city. Ending at Ben Thanh Market or House of Saigon for shopping and café.
Overnight in HCMC
Day 9: HCMC / Cai Be floating market / Unique Homestay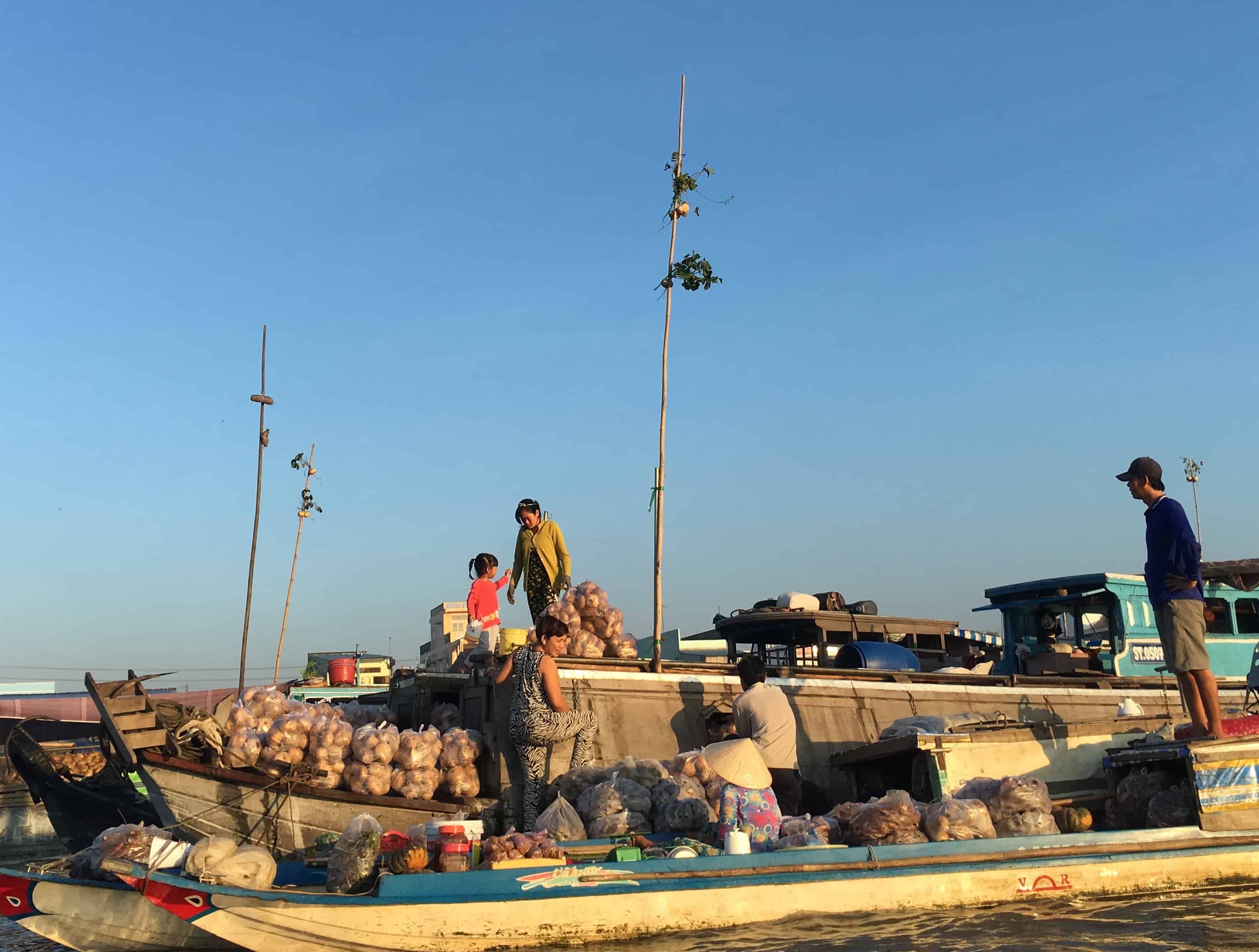 Meals: Breakfast, Lunch and Dinner
Road journey through the Mekong Delta to Tan Phong, via Cai Be:
After breakfast, leaving the busy city, you will start your trip to Mekong Delta. Up on arrival at Cai Be, you will take your first visit to Cai Be Cao Dai Temple and Cai Be Cathedral. After that, get on a cruise to visit Cai Be colorful floating market among local barges full of fruits and vegetables. Then, an optional stop can be made at local workshops where you can see how to make rice paper, coconut candy and pop-rice, pop – corn.
Arrive at a home-stay. Have a rest, relax and have lunch.
In the afternoon, a rowing boat will take you deeper into the countryside on smaller canals and to enjoy the peaceful time. It is so interesting to see traditional houses made of wood and palm tree leaves and see some activities of the local farmers.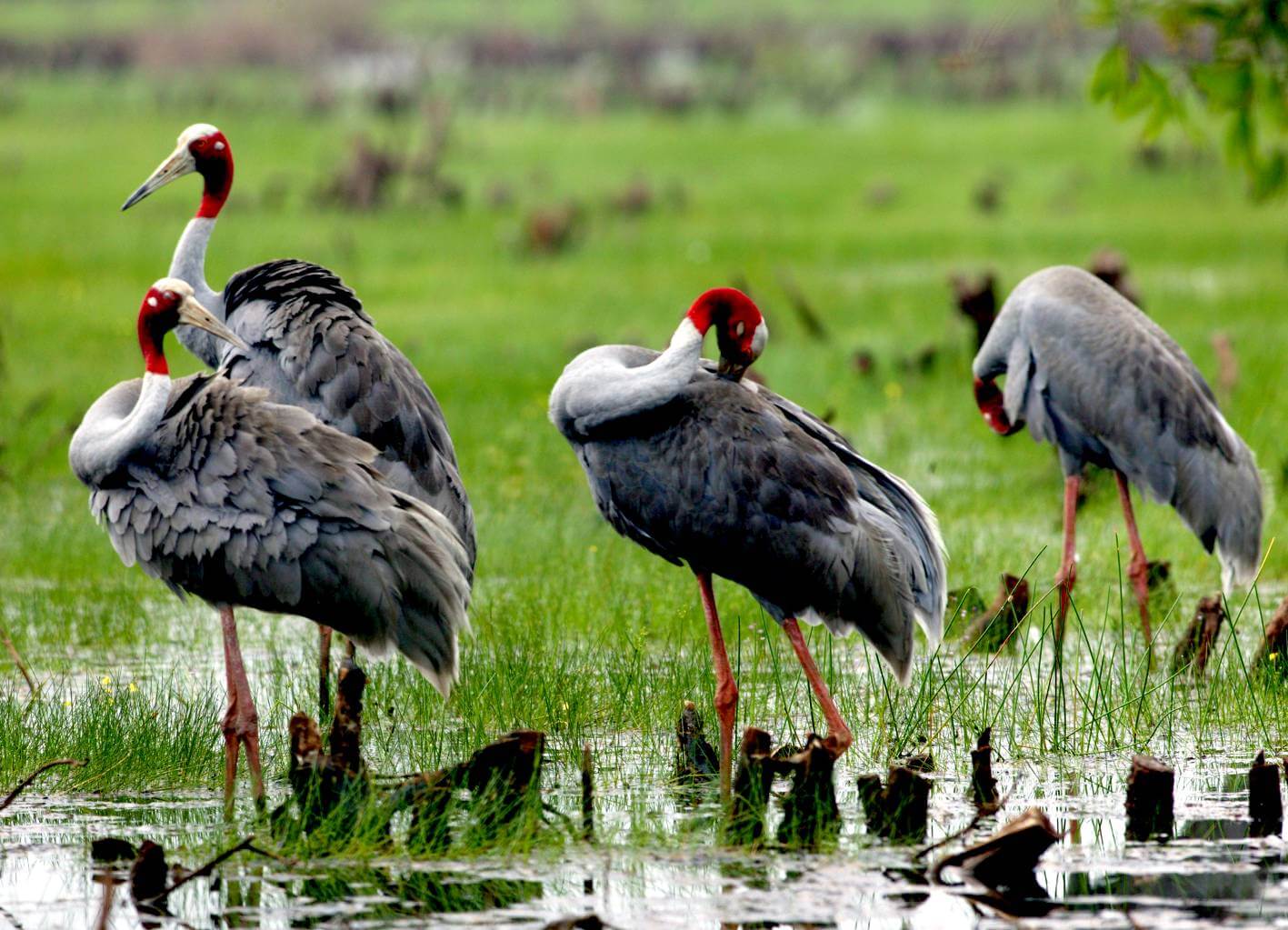 Go back your home–stay and get ready for next activities. You will try catching fish in the river and collecting vegetable. You will be guided to prepare dinner by our local Chefs in the late afternoon.
Have some fruits and tea when enjoying the local traditional music, Don Ca Tai Tu.
Note: The floating markets in the Mekong Delta are no tourist markets but wholesale markets where produce of the Mekong Delta like fruits and vegetables are traded. For this reason the number of boats on the market fluctuates depending on harvesting seasons and market demand. Furthermore, modern wholesale markets are becoming more popular in Vietnam. This can result in decreasing numbers of boats being present on the markets.
Overnight at your Unique home-stay in Tan Phong Islet
Day 10: Cai Be /Ho Chi Minh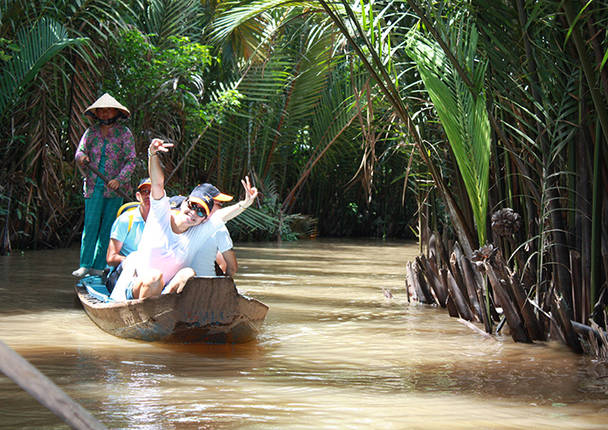 Meals: Breakfast and Lunch

Have a breakfast and hop on your bike for a discovery of Tan Phong Islet. You will visit kindergarten. Stopping at a local farmer's house to learn how to make Jackfruit leafs cake and then cycling to Bonsai garden and talking to him to understand how local farmers take care for their gardens, then try plucking the fruits and tasting them. You also will have chance to listen to the traditional local music, Don Ca Tai Tu.
After cycling back to your home-stay, you will take short rest and check-out at about 11:00. After lunch, your boat will transfer you back the tourist boat Cai Be for driving back to Ho Chi Minh City.
End of the tour today at 17:00 in Ho Chi Minh City
Overnight in Ho Chi Minh City
Day 11: Cu Chi Tunnels by minivan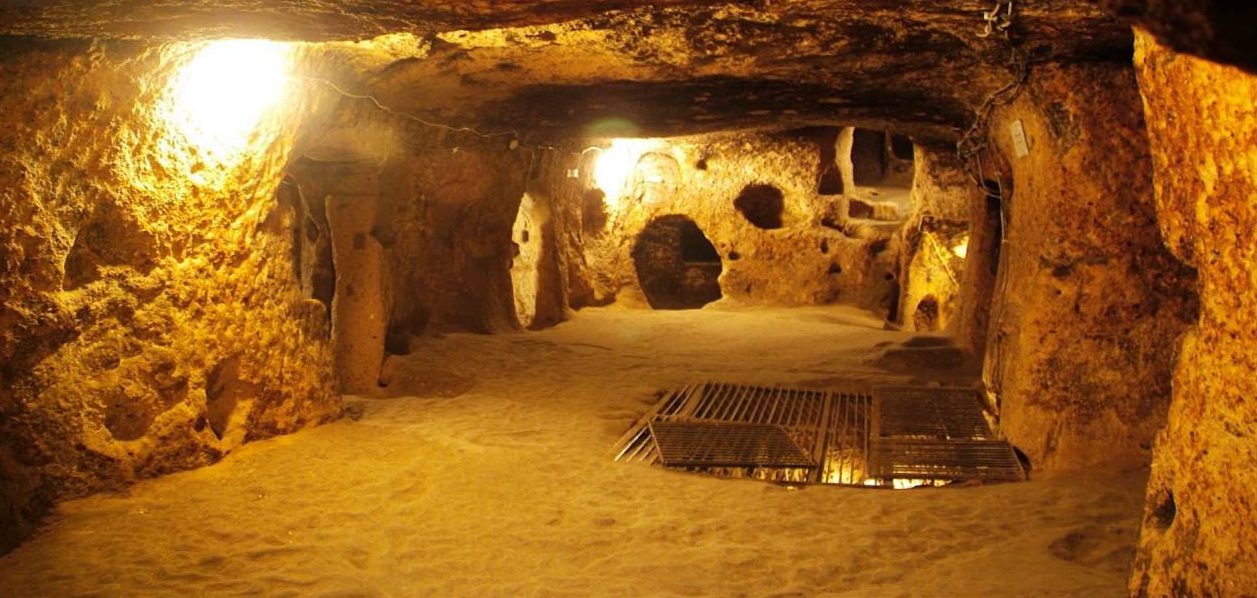 Meals: Breakfast and Lunch
Morning tour of the Cu Chi Tunnels: This morning, enjoy scenic drive through the countryside as people work on their rice paddies and thatched hut villages scattered along the way. Visit a local village making rice paper, a well-known product used to make the delicious spring rolls. Arriving at the Cu Chi Tunnels to explore part of the 151-mile underground network that zigzagged from the southern tip of the Ho Chi Minh Trail near Cambodia to the Saigon River. Cu Chi is a must for anyone interested in understanding a vital aspect of guerrilla warfare fought by the Vietnamese against both the French and the Americans. These criss-crossing tunnels were begun in the late 1940s by local resistance fighters looking for a place to hide their weapons from the French. Discover secret trapdoors, field hospitals, command posts, underground kitchens, living areas and meeting rooms.
Optional excursion: Please contact us if you interest.
1. Cooking class at Saigon center ( 4 hours)
2. The Mist Show (modern dance and ballet) at Saigon Opera house (Price from US$ 28 to US$ 65/ per ticket)
3. A O show (bamboo dance, acrobatic & music) – at Saigon Opera (Price from US$ 28 to US$ 65/ per ticket)
4. Saigon's nightlife & foodies tour by Scooters ( 2.5 hours)
Overnight in HCMC
Day 12: Depart Ho Chi Minh
Meals: Breakfast
Today is your final day. You are free to chill out and relax. Depending on your departure flight, your private driver will pick you up from the hotel and transfer you to the airport in time for your flight to the next destination. They will ensure you are the correct gate.
We wish you a safe and pleasant journey.
PRICE & INCLUSIONS
· Best of Vietnam Tour 12 Days  prices shown are 'per person', based on a travelling party of at least 2 adults, and sharing a room.  If you intend to travel alone, the cost might be much higher.
· The 'Single supplement' applies for single travelers who require their own room and needs to be added to the tour price.
· Note: Amendments CAN be made to this tour to suite your requirements, but may incur price changes.

What's Included:
· 10 night at 3 star hotel based on Twin/Double sharing room
· 01 night on Halong Bay cruise with 2 day 1 night program onboard
· 01 night at home-stay in Cai Be
· Breakfast at hotel
· Experienced English speaking guide with legal license
· Private car during the trip with experienced driver Except shuttle bus Hanoi – Halong – Hanoi
· All Meals, Entrance fees and Tour activities as dedicated in the program
· Package ticket at Ba Na Hill including Returned cable car, Entrance fee and most of games in Fantasy Park: 105 games and the Legendary Knight (tube slide); Hiking train to Debay Wine Cellar and entry to Le Jardin D'Amour gardens
· Flight ticket 4 routes with local airlines (including 7kg hand luggage and 20kg checked baggage)
* Hanoi – Hue
* Danang – Ho Chi Minh City
· Service charge
· Bottled water & wet towel on van during trip

What's Excluded:
· Tip for Tour guide and driver (recommended)
· Bank fees for both sides
· Visa fee to Vietnam (US$25/person)
· International airfare
· Entry to the Wax Museum: VND100,000/grown-up, Teddy bear grips and Fantasy Park indoor sports in Ba Na Hill
· Peak season surcharge (During Christmas and New Year)
· Early Check-in (before 14.00) and late check-out (after 12.00)
· Personal expense

Remarks: 
1. All of our itineraries can be tailor-made to suit your requirements, allowing us to create the perfect holiday just for you. Please click on the "Tailor this trip" button and complete the requested information for us. Upon receipt, our travel consultant will customize the best value vacation for your kind consideration. Please note: Changes CAN be made to the itinerary after our initial quote, but may result in a price change also!
2. We are aware that a good tour must have good hotels. In Indochina in particular (Vietnam, Cambodia & Laos) hotel prices make up the major expense of your holiday. Therefore, we would like to clarify how we define these charges:
· Boutique & character hotels: from $50-$80 USD per room/ per night
· Comfort = 3 star hotels from US$ 40 – US$ 60 per room/ per night
· Superior = 4 star hotels from US$ 80 – US$ 110 per room/ per night
· Deluxe = 5 star hotels from US$120 – US$ 190++ per room/ per night
· High-end = Best of the best hotels fr om US$ 250++ per room/ per night
3. Child policy:
· Ages 0-2 years at 5 % of adult price
· Ages 2-5 years at 30% of adult price
· Ages 6-11 at 70% of adult price
· 12 years and older = 100% (charged as an adult)
SERVICE DETAILS & TRAVEL VISA
Service Details During The Trip
We'll immerse you in the diverse cultures of Vietnam by showcasing the unique local flavors. And with the perfect balance of included sightseeing and free time, you can customize your dream vacation with the things you have always wanted to do.
Private Local Tour Guide You will have legally licensed local tour guide in each destination, from welcome and farewell you at the airport. Your guide will guide, help, assist and taking care of you in order to make your tour worry-free. The good guide for you means we arrange the right guide. Asianwaytravel.com will arrange tour guide base on the feature of the itinerary and consists of the group, to maximize your experiences in traveling.
Private Drivers & Vehicle Safety is first priority for transportation. A well maintained good condition car with legal business licensed and an experienced driver to make sure you are in safe hands. To maximize your comfort and joyful experience with driving service, cold drinking water, cold towel and soft drink are provided in the car.
Local Flavor Meals Don't worry about meals; we select both restaurants and menus for you. Asianwaytravel.com will select clean and good environment restaurants for our customer. Menu is also carefully selected by us to ensure you try different food every meal.
We will recommend and arrange local cuisine since it is part of the cultural experience while traveling. We also recommend dinners are free on your own so you can choose your favorite food by yourself under necessary assistance of your local guide.
Well-Selected Hotels Comfort and good value is our priority for choosing hotels for our customers. Comfort of mattress and bedding, joyful decoration style, user friendly facilities, good service and good breakfast!
Travel Visa
Most countries in South East Asia require you to obtain a visa. Please check carefully with your travel specialist regarding specific visa requirements for each country you plan to visit as the legislation does change frequently. Thailand offers a free visa on arrival to most nationalities. Other countries including Vietnam, Laos, Cambodia and Myanmar offer a "visa-on-arrival" service which requires you to pay a fee at the airport, or you may prefer to obtain this in advance through the relevant embassy or a visa agent. For visa-on-arrival in Vietnam, you must submit some paperwork before you arrive.
This is an option to get your visa for Vietnam instead of getting visa at the Vietnam consulate in your country.
Step 1: Provide us your application details
• Your full name (as exactly seen on your passport)
• Your gender
• Your date of birth
• Your nationality
• Your passport number
• Your passport expiration dates ( valid for at least 6 months)
• Date of arrival ( dd/mm/yy)
• Date of exit (dd/mm/yy)
• Arrival airport
Step 2: Process your visa information into a visa application
We will contact you for reviewing your visa information and then submit your application on your behalf to Vietnam Immigration department and follow other procedures pursuant to the regulations of Immigration department to get Visa approval letter granted by Immigration department.
Step 3: Send the visa approval letter via email to you after 2 working days
After we obtain the visa approval letter from the Immigration department for you, we will forward you a scanned copy of it by email (Your visa information then have been recorded to the Visa system of the Vietnam Immigration department).
Step 4: Get your visa stamp on your arrival
Just print the approval letter out, prepare 2 passport sized photos and an amount of USD for stamping fee ($45 for single entry visa; $65 for 1 month multiple entry visa and $95 for 3 multiple entry visa). Put all above mentioned things along with your passport in a package, then show them to Immigration officer at Vietnam arrival airports.
Upon arrival at Vietnam's airport, expect a simple form to fill in (or you can download here to fill beforehand), present the visa approval letter, passport, photos to the Immigration officer inside the counter and look for a place to hear your name be called to get the passport back and pay for the stamping fee. The actual process takes around 15 minutes without hassle or trouble.
What are the differences between this process and getting visa at Vietnam embassies?
It is only applicable for those who travel to Vietnam by air. You only need fill out the visa application form online instead of visiting the Vietnam embassies or sending documents to Embassies over by post.The online visa application does not require sending your passport away.You get a visa approval letter issued by Vietnam Immigration Department indicating that you are allowed to enter Vietnam and have your visa stamped upon arrival at one of Vietnam international airports.