Vietnam Travel Line – 14 Days
Duration: 14 days
Destination: Saigon / Mekong Delta / Cu Chi Tunnels / Hue / Hoian / Hanoi / Ninh Binh / Halong Bay
With the length of your holidays, the 2 weeks in this Vietnam tour package will offer you an overview of Vietnam from South to the North and deeply discover the culture in Mekong Delta and further in Halong Bay. You will travel to the must-see places but coming to the less-traveled part of them and alternative travel route.
TOUR ITINERARY
DAY 1: ARRIVE IN SAIGON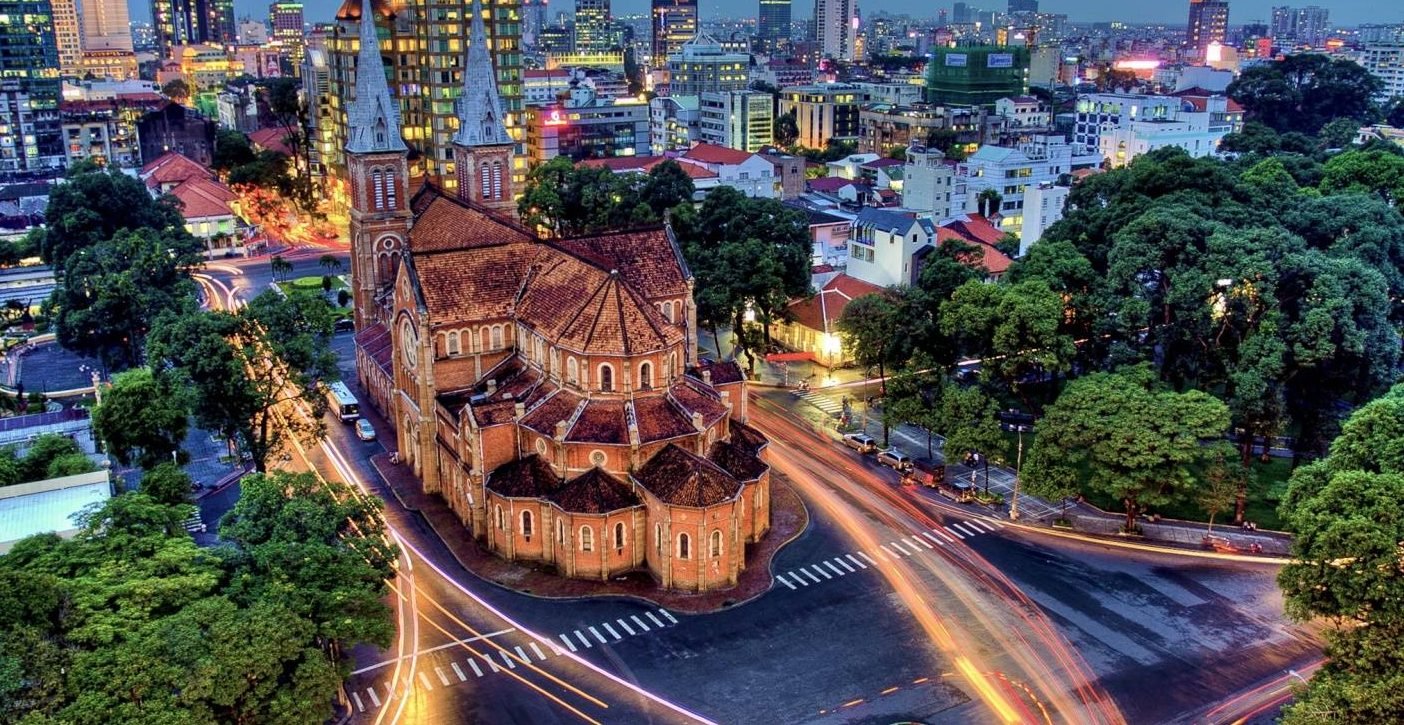 Meals: N/A
Fly to HCMC, VIETNAM
Welcome to Vietnam.
Upon arrival at HCMC Airport, obtain your Vietnam visa (with pre-approval letter), and then clear Immigration and Customs. After collecting your baggage, exit the airport to meet outside a local Guide of Asianway travel.
He/she will be holding a sign with your names on it. Please note that local guides are not allowed inside the airport.
From the airport, you will be privately transferred to your lovely hotel.
Settle in and enjoy the rest of the day at your leisure.
Overnight in Ho Chi Minh City
DAY 2: SAIGON MEKONG DELTA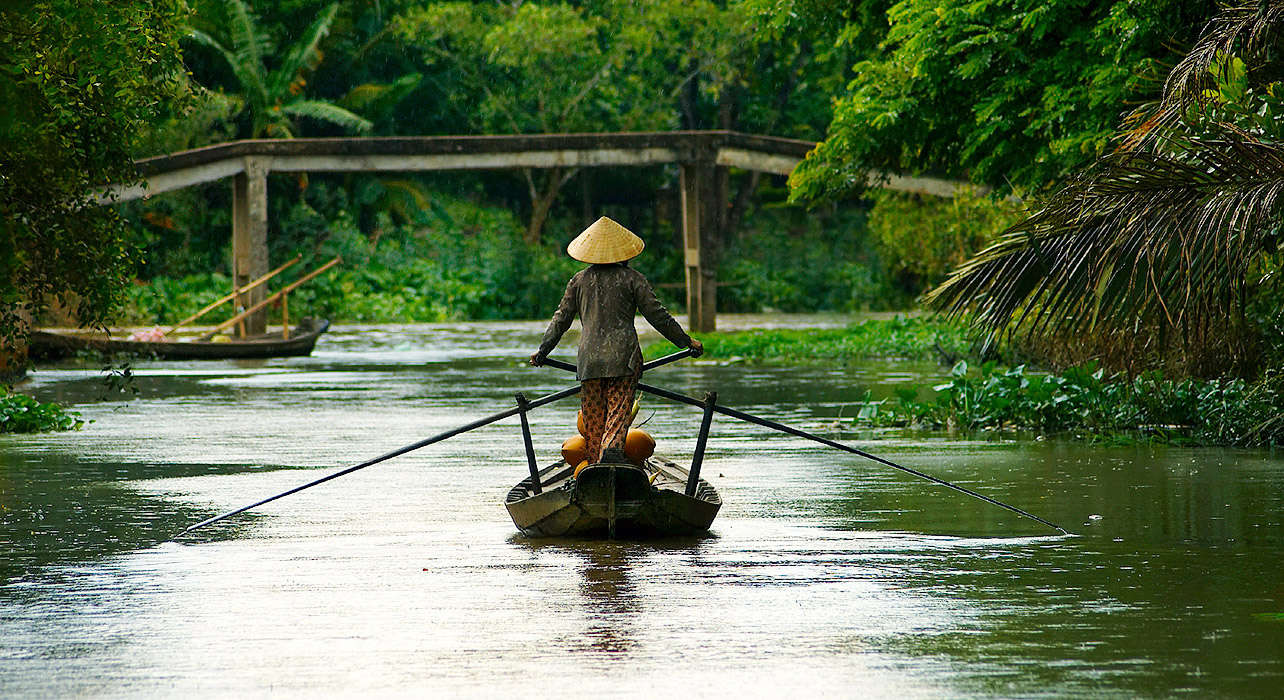 Meals: Breakfast, Lunch and Dinner
– 7.00am: Leaving the busy city, you will start your trip to 
Mekong Delta
.
– Stop to visit Cai Be Cao Dai Temple.
– Get on a cruise to visit Cai Be colorful floating market among local barges full of fruits and vegetables.
– Then, an optional stop can be made at local workshops where you can see how to make rice paper, coconut candy and pop-rice, pop – corn.
Arrive at a home-stay. Have a rest, relax and have lunch.
– After lunch, a rowing boat will take you deeper into the countryside on smaller canals and to enjoy the peaceful time.
– It is so interesting to see traditional houses made of wood and palm tree leaves and see some activities of the local farmers.- Go back your home – stay and get ready for next activities.
– You will try catching fish in the river and collecting vegetable. You will be guided to prepare dinner by our Chefs in the late afternoon.
– Have some fruits and tea when enjoying the traditional music.
*Please note: The floating markets in the Mekong Delta are no tourist markets but wholesale markets where produce of the Mekong Delta like fruits and vegetables are traded. For this reason the number of boats on the market fluctuates depending on harvesting seasons and market demand. Furthermore, modern wholesale markets are becoming more popular in Vietnam. This can result in decreasing numbers of boats being present on the markets.
Overnight at your home-stay in Tan Phong Islet
DAY 3: MEKONG DELTA – SAIGON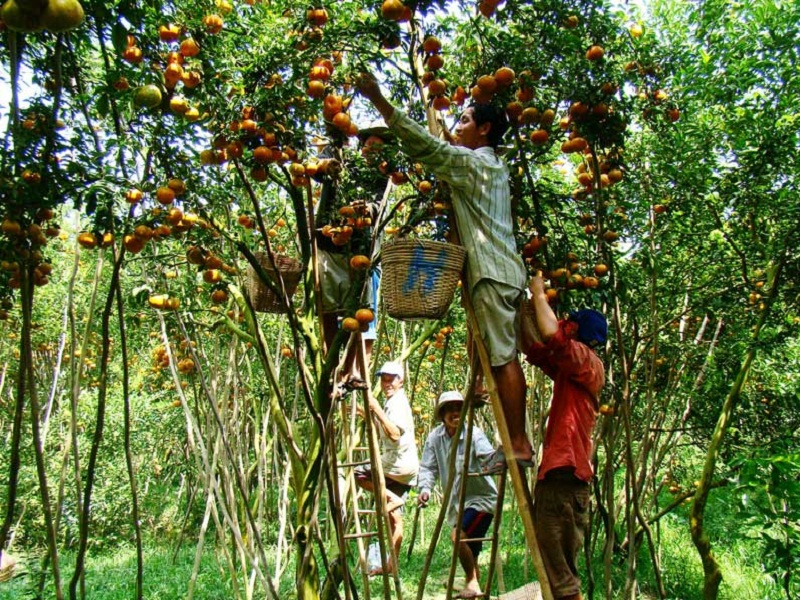 Meals: Breakfast and Lunch
– Have a breakfast and hop on your bike for a discovery of 
Tan Phong Islet
.
– You will visit kindergarten. Stopping at a local farmer's house to learn how to make Jackfruit leafs cake and then cycling to Bonsai garden and talking to him to understand how local farmers take care for their gardens, then try plucking the fruits and tasting them.
– After cycling back to your home-stay, you will take short rest and check-out at about 11:00.
– After lunch, your boat will transfer you back the tourist boat Cai Be for driving back to 
Ho Chi Minh City
.
– End of the tour today at 17:00 in Ho Chi Minh City.
Overnight in Ho Chi Minh City
DAY 4: SAIGON – CU CHI – CITY TOUR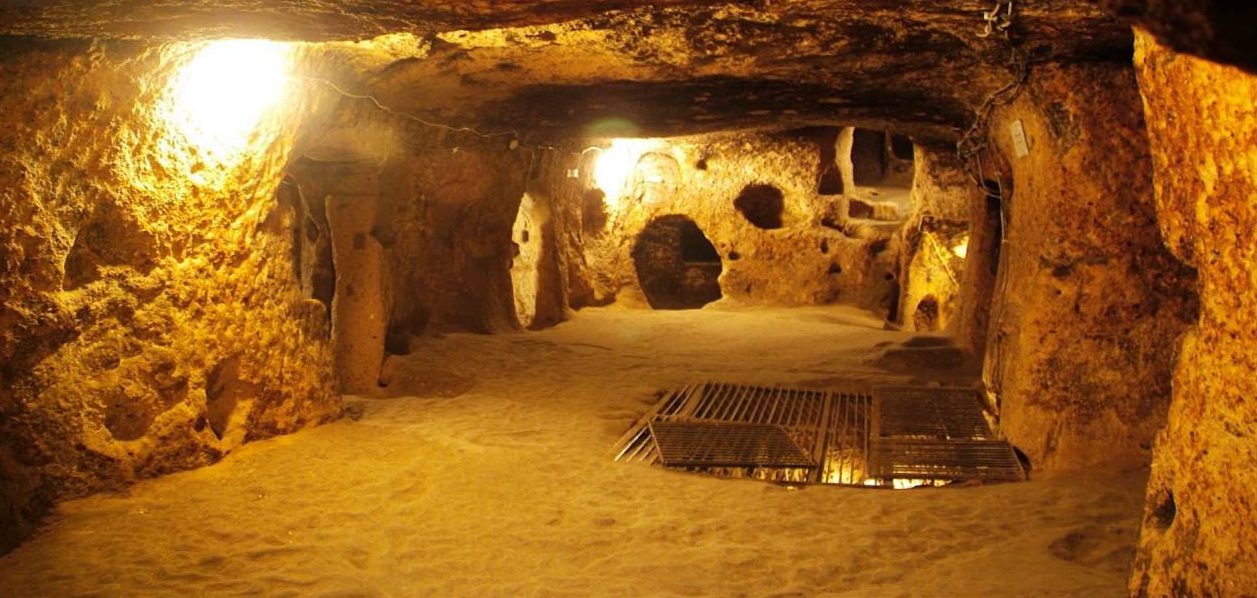 Meals: Breakfast and Lunch
Morning tour of the Cu Chi Tunnels
:
– At 7.00, pick up at hotel & enjoy scenic drive through the countryside as people work on their rice paddies and thatched hut villages scattered along the way.
– Visit a local village making rice paper, a well-known product used to make the delicious spring rolls.
– Arriving at the 
Cu Chi Tunnels
 to explore part of the 151-mile underground network that zigzagged from the southern tip of the Ho Chi Minh Trail near 
Cambodia
 to the Saigon River. Cu Chi is a must for anyone interested in understanding a vital aspect of guerrilla warfare fought by the Vietnamese against both the French and the Americans. These criss-crossing tunnels were begun in the late 1940s by local resistance fighters looking for a place to hide their weapons from the French. Discover secret trapdoors, field hospitals, command posts, underground kitchens, living areas and meeting rooms.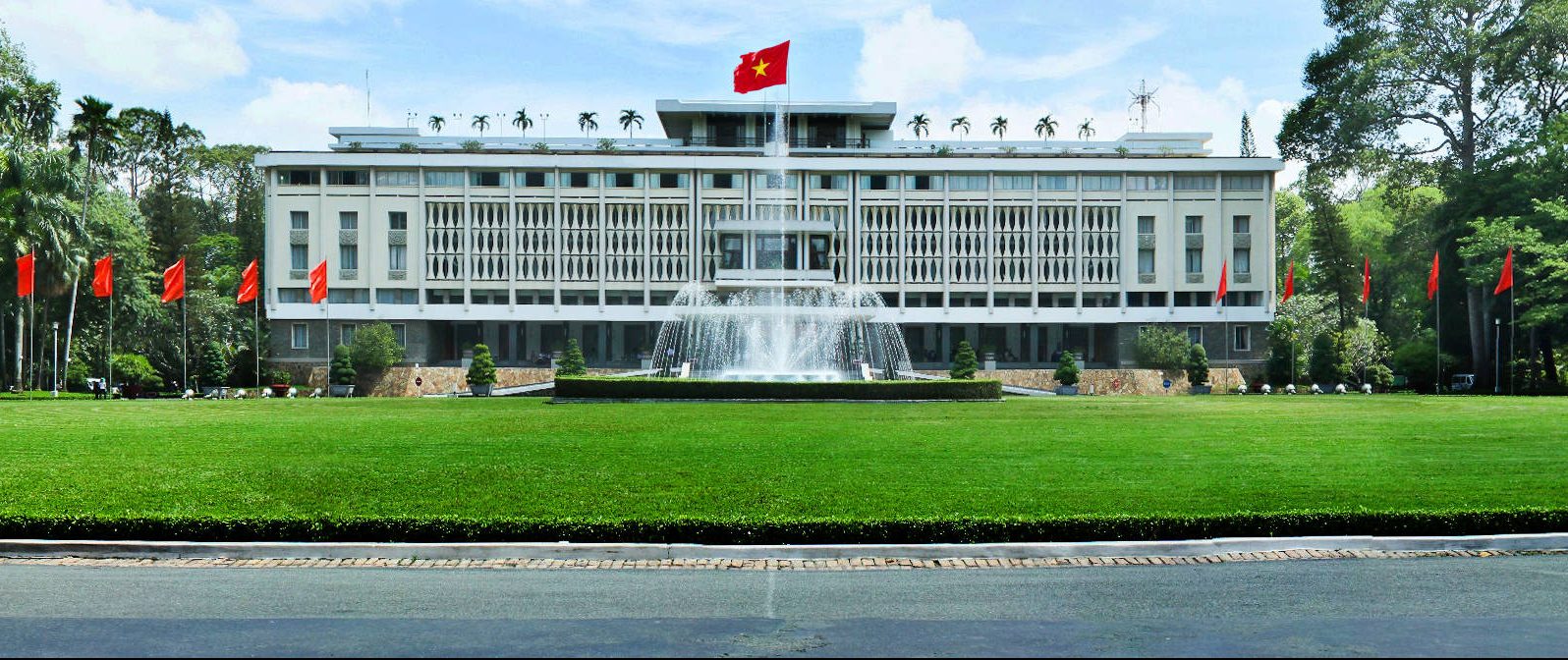 Afternoon tour of HCMC:
– We'll discover Saigon's historic landmarks including the Independence Palace. Also known as Reunification Palace, the building was used to be the home and workplace of the President of South Vietnam during the American War. It was the site of ending the War during the Fall of Saigon on April 30, 1975, when a Vietnamese Army tank crashed through its gates.
– Next visit the FITO Museum, it is the first museum of Vietnamese medicine. On display are nearly 3,000 items dating back to the Stone Age. Exhibits include tools used to prepare medicine, knives, mortars and pestles, documents and objects from a traditional pharmacy. The museum regularly screens a documentary about the history of medicine.
– Continue visiting to the 1880's General Post Office and the late 19th century Notre Dame cathedral, located in a peaceful part of the city.
– Ending at Ben Thanh Market or House of Saigon for shopping and café.
Overnight in Ho Chi Minh City
DAY 5: SAIGON – FLY TO HUE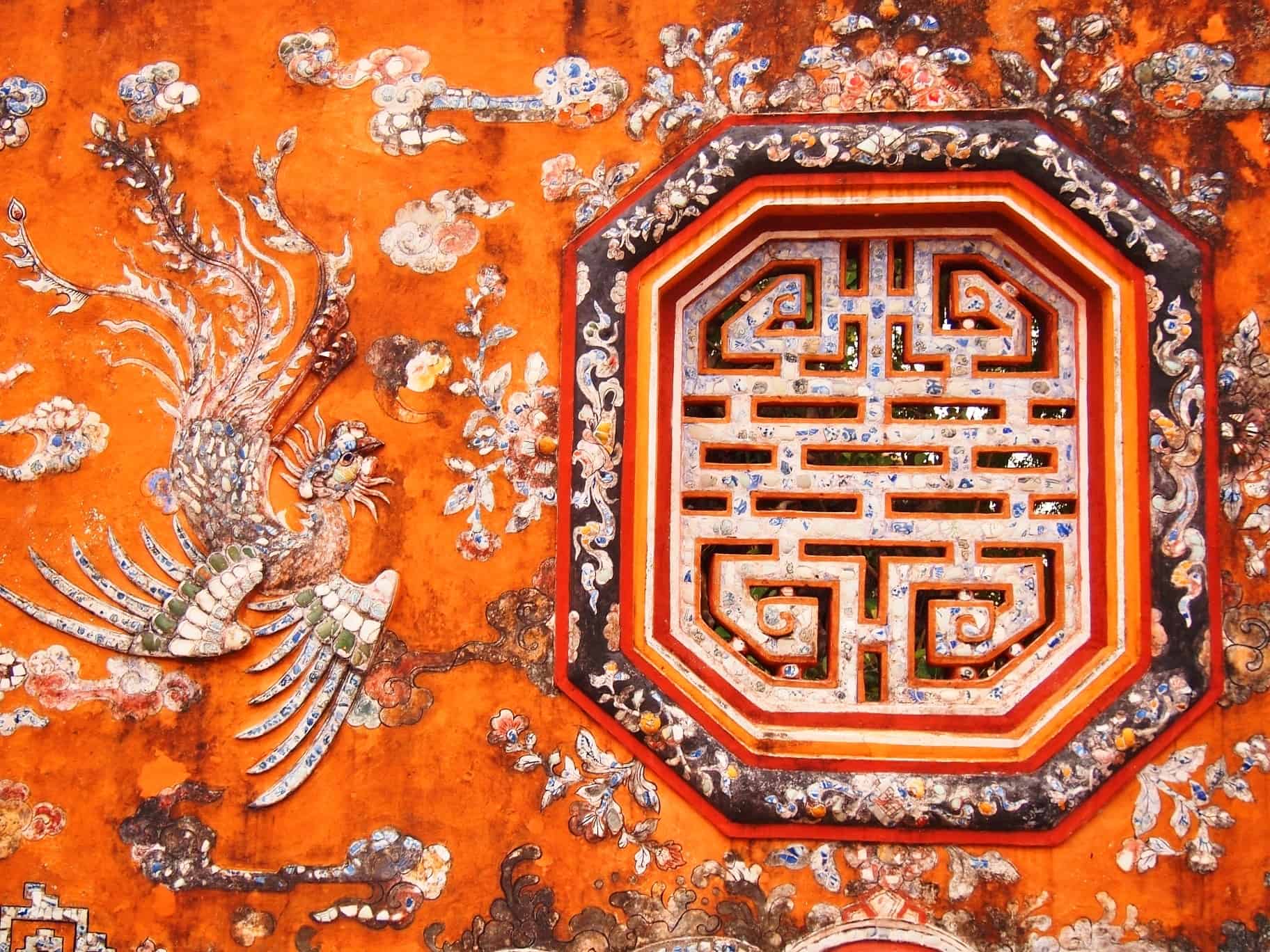 Meals: Breakfast and Lunch
You will take a morning flight to 
Hue
. Flight code VN1370, 07.30 – 08.50
Welcome to Hue.
We will pick you up and transfer to your hotel. If the rooms are available, you can take an early check in. Or the rooms are not available; you will store your luggage at the hotel and start the trip in Hue City.
You will start with visiting the Imperial Citadel and the Forbidden Purple City nearby. Modeled on the Forbidden City in Beijing by the Nguyen emperors in the early 19th century, the city was badly damaged during the war but the imposing city walls surrounded by a large moat afford good views of Hué. The palace retains a feeling of its past scale and importance, with detailed stonework and pavilions and it is at the moment in the process of being restored to its former magnificence.
– After Lunch, you will visit Tu Duc King Tomb.
– Stop to visit Tiger Arena and Voi Ré Temple on the way.
– Continue to Thien Mu Pagoda, sitting on the riverbank outside the city, this octagonal seven tier stupa has long been regarded as the symbol of Hué and was founded in 1601. It is still a site of Buddhist worship and its huge bell is said to be audible from the city. Take a down-stream cruise for sunset on the river.
– If time permits, we will visit Dong Ba market.
Overnight in Hue
DAY 6: HUE – HOIAN WALKING IN THE OLD QUARTER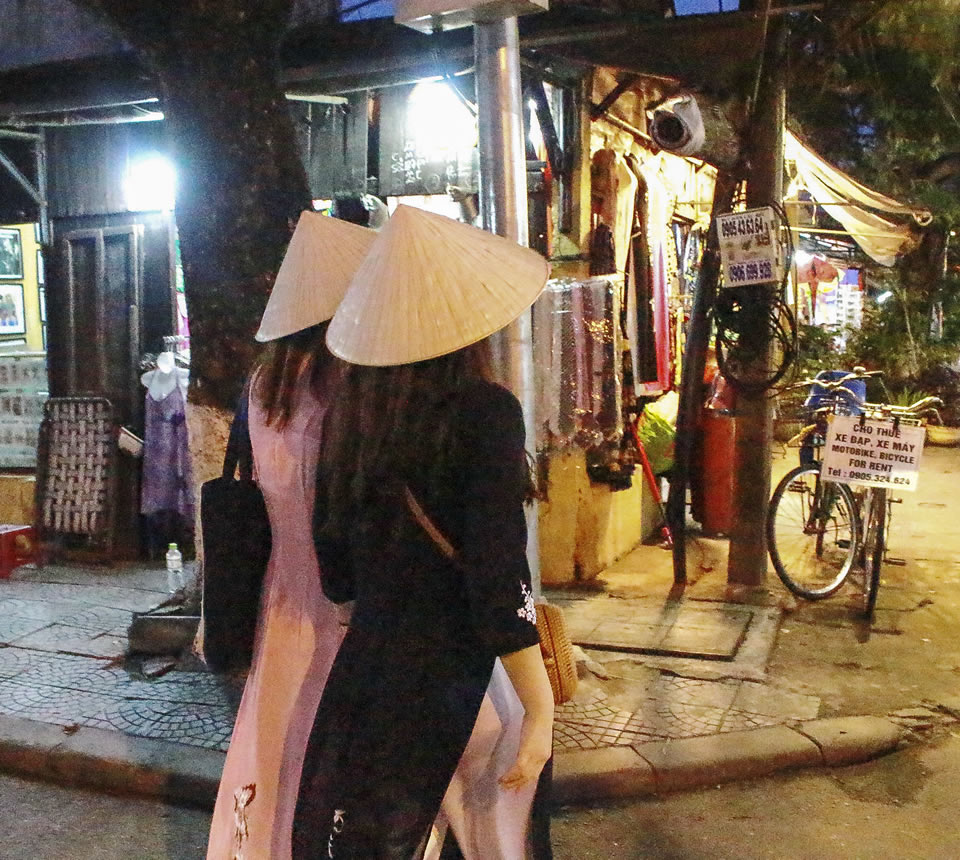 Meals: Breakfast and Lunch
This day, we will leave Hue for 
Hoi An
.
Stop en-routes at several for beautiful scene and witness local life. Firstly, we will stop at Thuy Thanh village; visit the local market and a farmer tool at a family.
Chance for taking photo when you pass Lang Co Beach and Hai Van Pass.
In Danang, you will stop to visit Cham museum.
In the afternoon, discover how the traditions of the past are treasured in the present in Hoi An on the Thu Bon River, a key international trading port between the 15th and 19th centuries – now a UNESCO World Heritage Site for its well-preserved, centuries-old streets, dwellings, temples and pagodas, touring Hoi An's historic highlights, explore its shop-lined streets, view the red-painted Japanese Covered Bridge – the three Chinese characters over the door mean "bridge for passers-by from afar" and tour the 200-year-old "Phung Hung" house, noted for its unique architecture.
What you'll see there will reveal much about the lives of Hoi An merchants long ago.
Visit the workshop of a traditional lantern maker for a demonstration of this time-honored craft; meet the artisans and try your skills as you create your own lantern to take home.
Overnight in Hoi An
DAY 7: HOIAN – VISITTING THE VILLAGES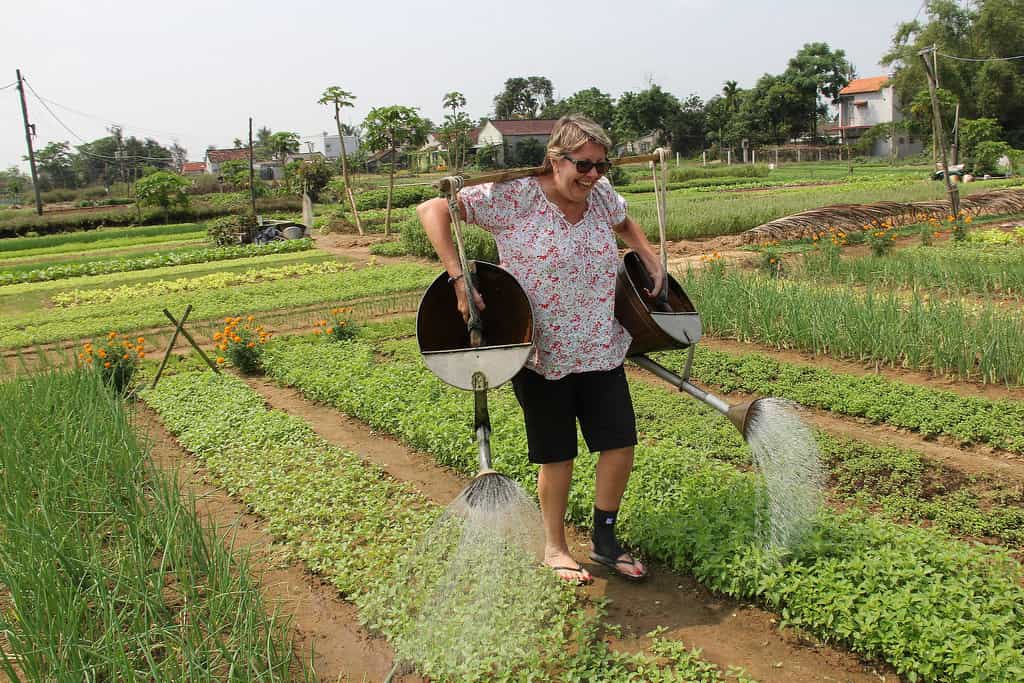 Meals: Breakfast and Lunch
In the morning, meet the tour guide at your hotel. After a short guidance of using your bike, we will start the biking trip to the small villages in the beautiful surrounding countryside.
We board the ferry and head for Duy Hai fishing hamlet,  arriving as the small fishing boats return with their daily catch. We then  spend a couple of hours cycling and exploring, stopping  to take a tour of the raucous Noi Rang market.
After lunch at a local family restaurant, back on the bikes to Kim Bong craft village as the carpenters return to work from their siesta. A stunning ride through lush countryside and tracks lined by river coconut palms, with the gentle breeze sweeping  in off the river.
We set off on the winding tracks through rice fields and villages famous locally for producing sleeping mats. There is a stop to meet one of the few remaining  coracle (basket) boat  builders,  a dying local trade. We then take in a visit to the ship building yard giving you an insight in to the importance of these  trades in an area dependent upon fishing as a livelihood.
Moving on to the wood carving workshops where your guide will introduce you to the carpenters and give you the chance to see these talented craftsmen produce everything from daily wares through to the intricate detailing involved in their more decorative work.
Finally, board a local boat for the journey back to the old town. Enjoy the banter  of the locals and  the  stunning waterways edged by the unique architecture of Hoi An. Return to your hotel.
Overnight in Hoian
DAY 8: HOIAN – DANANG – HANOI
Meals: Breakfast
Morning tour to 
My Son holly land
, a cluster of abandoned and partially ruined Hindu Temples constructed between the 4th and the 14th century AD by the kings of Champa .The temples are dedicated to the worship of the god Shiva, known under various local names, the most important of which is "Bhadresvara". From the 4th to the 14th century AD, the valley at My Son was a site of religious ceremony for kings of the ruling dynasties of Champa, as well as a burial place for Cham royalty and national heroes.
Free time until departure for the flight
Take a flight from Danang to Hanoi.
Flight code: VN172, 17.20 – 18.40
Overnight in Hanoi
DAY 9: HANOI – NINH BINH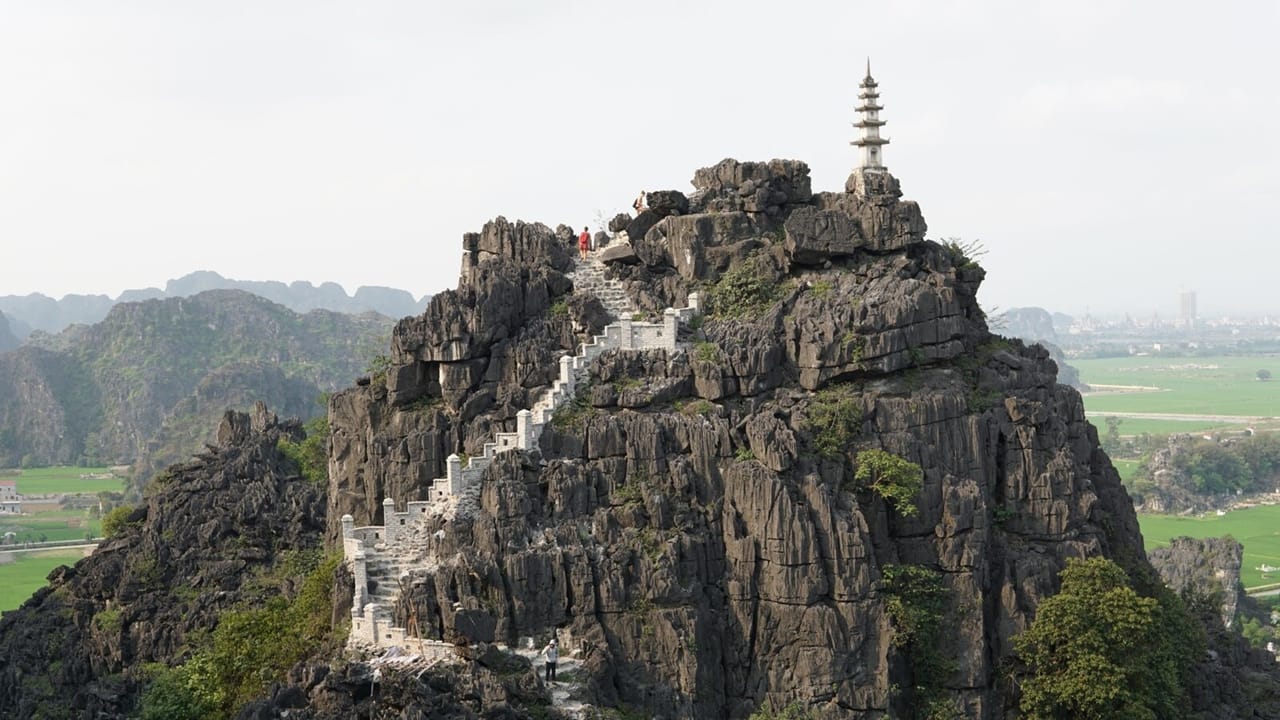 Meals: Breakfast, Lunch and Dinner
In the morning, you will take a 2 – hours driving from Hanoi heading to the South to 
Ninh Binh
province.
This place was the first capital of Vietnam in Tenth century. You will visit King Ding Tien Hoang's Temple and King Le Dai Hanh Temple. Two temples are small but they have special historic and spirit value. You also see beautiful work of sculpture on wood and stone.
You get back on your coach again to Tam Coc.
After Lunch, you will take a rowing sampan to visit Tam Coc which is considered as "In – land – Halong Bay".
Checking in your hotel, relax and flexible activities as:
– Riding bicycle/walk from your hotel to visit village around
– Ride bicycle/by coach to Bich Dong Pagoda
– Ride bicycle/by coach to Thung Nham bird garden.
Overnight in Ninh Binh
DAY 10: NINH BINH – HALONG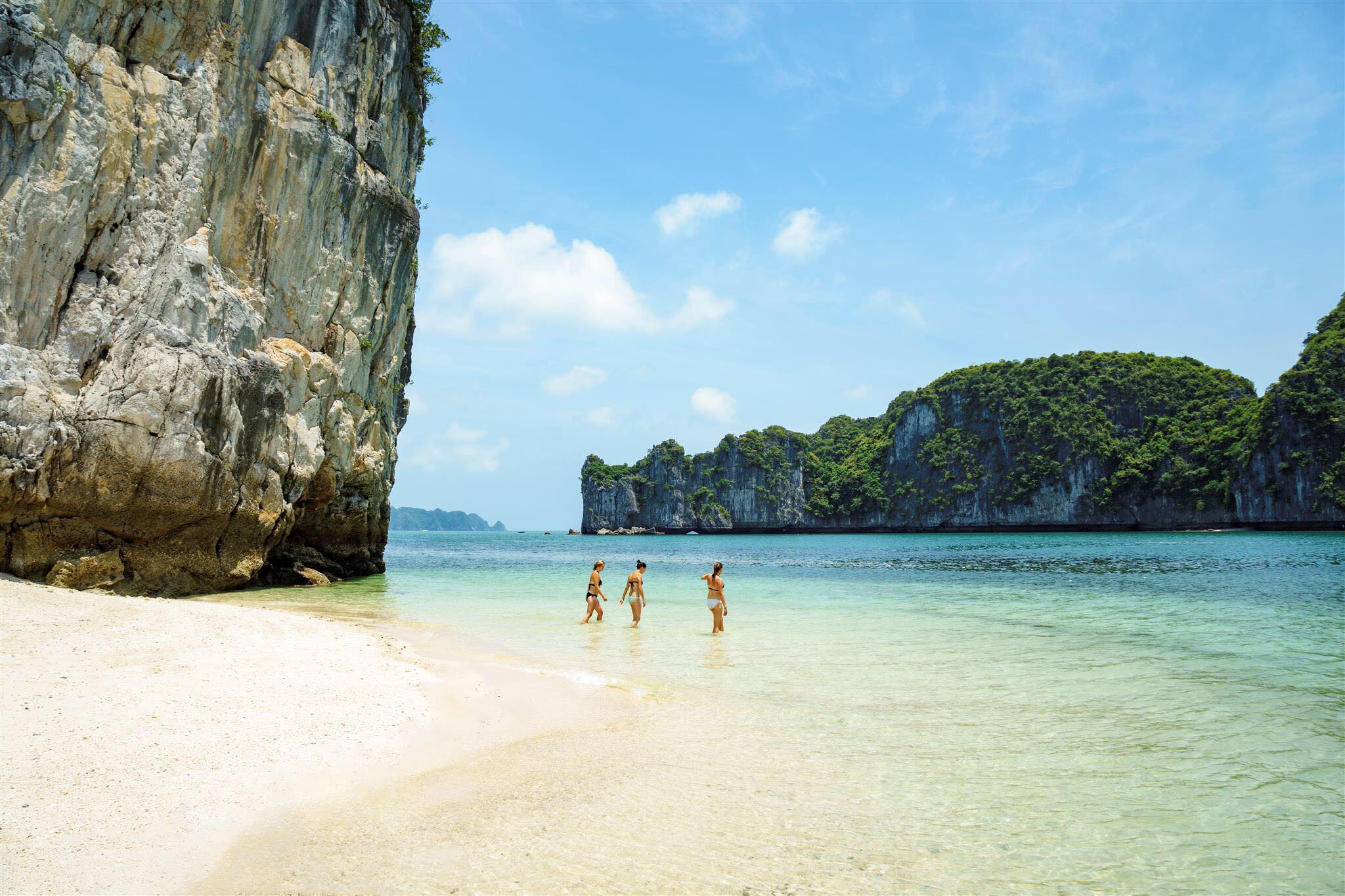 Meals: Breakfast, Lunch and Dinner
7.00 – 7.30: After breakfast, you will take a driving trip to 
Halong City
.
11.45 – 12.15: Embark at Hon Gai International harbor.
12.30 – 13.00: Embark on the boat. Enjoy welcome drink as Cruise Manager gives you a brief overview of the itinerary and important safety guideline. Check in your cabin.
13.30 – 14.30: Have lunch while cruising to magnificent Bai Tu Long Bay; Start sailing among famous Islets (Indochina studio, Am Islet…) of Bai Tu Long Bay, the wildest beauty with the panoramic natural views.
15.00 – 16.30: Visit and explore the well – hidden Co Cave (known as Thien Canh Son cave) where you can hike to the middle of the mountain to see the wild and mysterious beautiful cave, contemplate numerous sparkling stalactites appear like "hanging lamps" inside the Cave (No swimming)
Return to the boat and enjoy Happy hour. You will have 30% discount off from the special menu drinks including of cocktail, mock-tail and mixed drinks (from 16.30 pm to 19.00 pm.).
16.30 – 17.30: Enjoy kayaking and relaxing on the cruise in Cong Do Area.
17.30: Take part in carving flowers on the sundeck.
18.00 – 19.00: Attend our chef's cooking demonstration and try your skills in the art of traditional Vietnamese cooking (spring roll).
19.00 – 21.00: Dinner is served in the restaurant. You can enjoy the charm of Bai Tu Long Bay at night.
21.00 – 22.00: Enjoy evening activities (Squid Fishing, Movie Night, Board Games, and Massage & Spa services) or relax at the leisure then overnight at private cabin at Cong Do area.
*Please note: the schedule of the cruise can be different due to the different cruise, weather and tidy without prior notice.
Overnight in Halong bay
DAY 11: HALONG DISCOVERY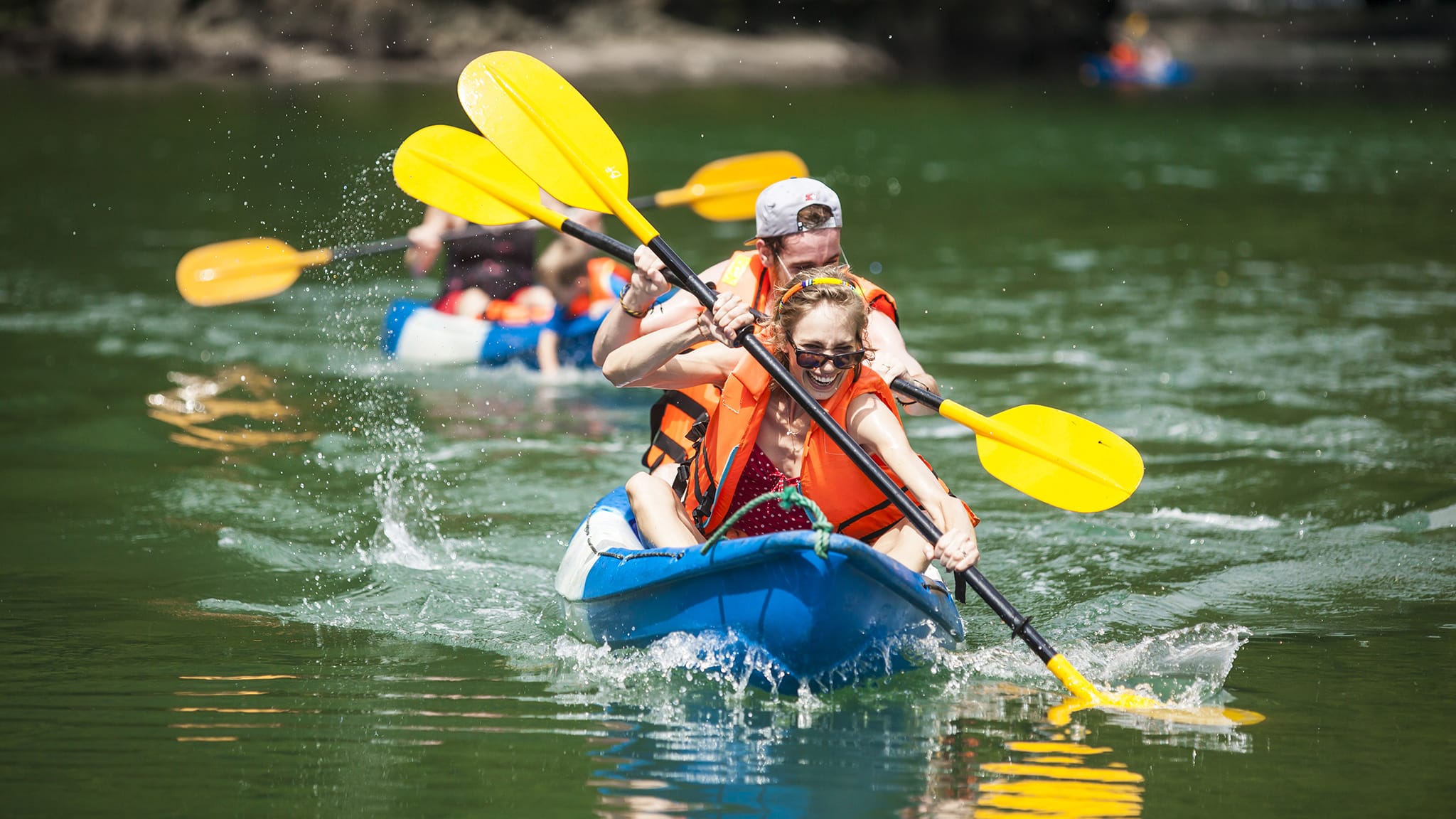 Meals: Breakfast, Lunch and Dinner
06.00 – 06.30: Welcome a new day with an amazing dawn on 
Bai Tu Long Bay
 with a Tai-chi session on the sundeck.
07.00 – 07.45: Catch the morning view of seascape while enjoying the breakfast in the restaurant.
08.00 – 08.15: Transfer to Day Junk (Day Boat) and start cruising to admire the widest beauty of Bai Tu Long Bay.
08.30 – 10.00: Visit Cong Dam Area – Deep into Bai Tu Long Bay, the famous hidden lagoons covered by majestic limestone islands and islets with wild beaches.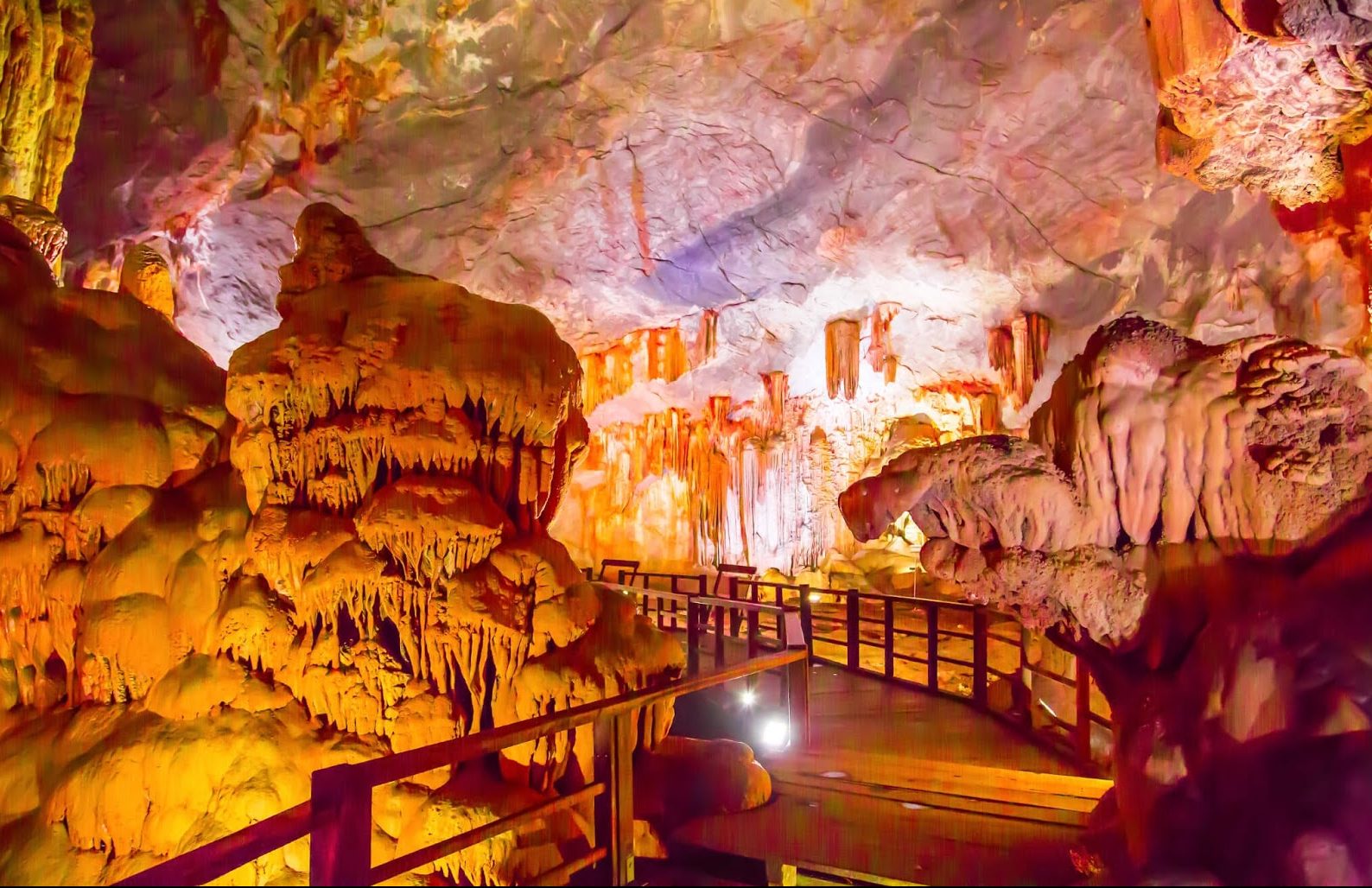 10.00 – 12.00: Kayak through lagoons at Geological Park in Cong Dam and relax at one of the most beautiful beaches in Bai Tu Long Bay.
12.30 – 13.30: Enjoy the lunch in the restaurant on day boat while cruising to Thay Cave.
14.00 -15.30: Bamboo boat and discover Thay cave, one of the well-hidden cave in Ha Long Bay.
16.00 – 16.30: Transfer from Day Junk (Day Boat) back to main boat – Huong Hai Sealife Cruise.
17.00 – 19.00: Enjoy Happy hour on sundeck & attend our chef's cooking demonstration and try your skills in the art of traditional Vietnamese cooking (spring roll).
19.00 – 22.00: Have dinner, enjoy evening activity (squid fishing) or relax at leisure then overnight on board in Cong Do area.
DAY 12: HALONG – HANOI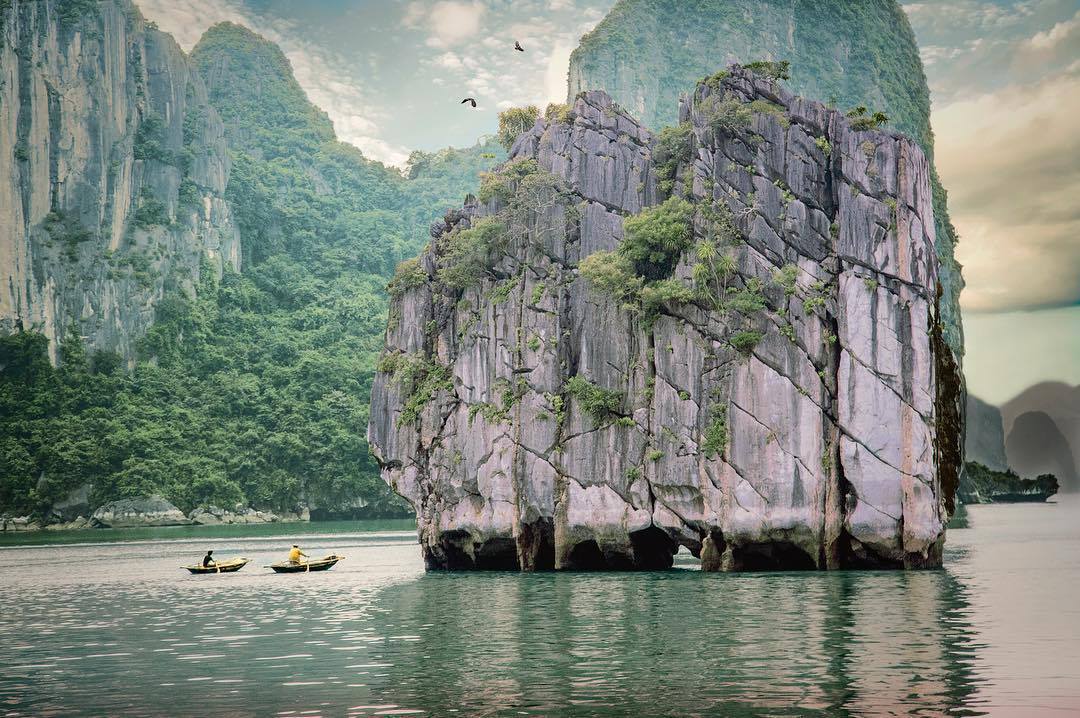 Meals: Breakfast and Lunch
06.30 – 07.00: Welcome a new day with an amazing dawn on Bai Tu Long Bay. Refresh your body and soul with a Tai-chi session on the sundeck.
07.00 – 07.30: Catch the morning view of seascape while enjoying the breakfast with cookies and tea, café in the restaurant.
07.30 – 08.30: Visit Vung Vieng fishing village by a rustic row-boat or kayaking, meet the local people and pass through the floating school and fish farms. (No swimming) .
08.30 – 09.30: Pack up the luggage and check out of the cabin.
09.30 – 10.40: Enjoy the brunch in the restaurant while cruising back to Vinashin tourist harbor.
11.00: Disembark from boat.
12.00: Your driver takes you back to Hanoi.
16.30: Arrive at your hotel. Check in and relax
DAY 13: HANOI TOUR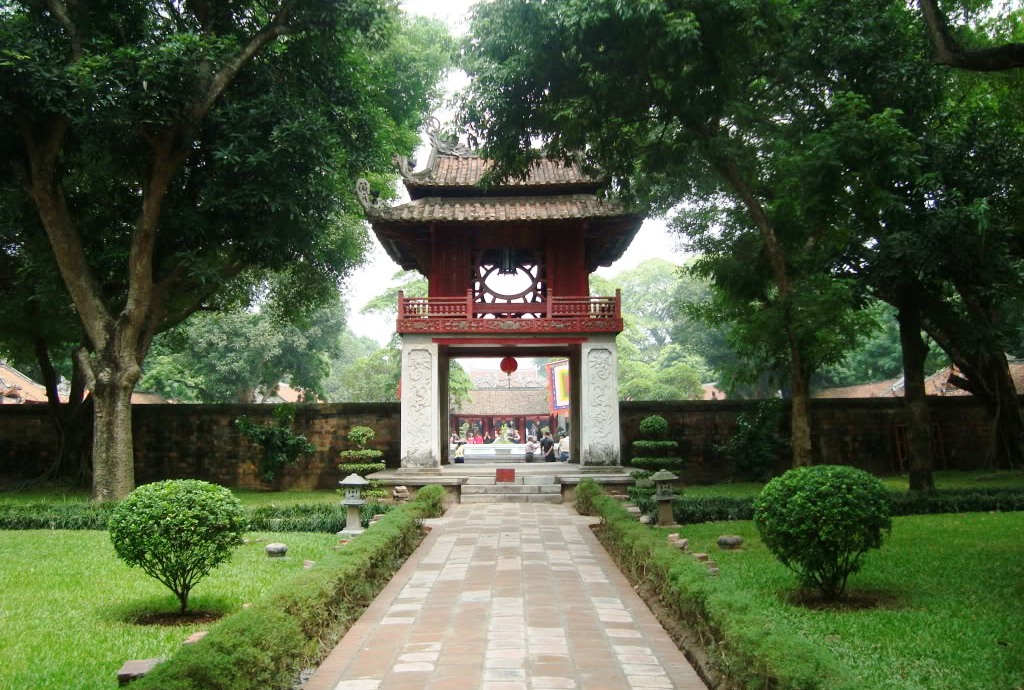 Meals: Breakfast and Lunch
Full day tour of Hanoi
: Morning, you'll head out with your guide and begins with a visit Ba Dinh Square to see Ho Chi Minh's Mausoleum (close during this period for annual maintenance), the museum to his life and the simple cottage where he lived and worked, along with his "house on stilts" and his final resting place; and take in 
Hanoi's famous One-Pillar Pagoda
, constructed in 1049 to resemble a lotus blossom.
– Continue to the 
Museum of Ethnology
, where we'll learn about the fascinating cultural diversity of this ancient land.
– This afternoon, drive through Colonial Hanoi, seeing the Opera House and other local sights. Go inside infamous Hoa Lo Prison ("Hanoi Hilton"), where Senator John McCain and Douglas "Pete" Wilson were once imprisoned, and continue to the Temple of Literature, which dates back to 1070 and is dedicated to the cult of Confucius.
– Take a cyclo ride through the Hanoi's Old Quarter, a network of narrow alleys and shop houses also known as "The 36 Streets." This is a wonderful place to watch the local life, and peruse items from fabrics to crafts to exotic medicines.
– Enjoy a traditional Vietnamese water puppet performance, a uniquely North Vietnamese art form celebrating rural life and folklore for over 1,000 years, this evening.
– Enjoy the left time of the day free
Overnight in Hanoi
DAY 14: HANOI DEPARTURE
Meals: BreakfastToday is your final day. You are free to chill out and relax. Depending on your departure flight, your private driver will pick you up from the hotel and transfer you to the airport in time for your flight to the next destination. They will ensure you are the correct gate.
We wish you a safe and pleasant journey.
PRICE & INCLUSIONS
2 Weeks in Vietnam Tour prices shown are 'per person',  based on a traveling party of at least 2 adults, and sharing a room in a 3 star accommodation.  If you intend to travel alone, the cost might be much higher. However, you also earn money by using the "Find travel mate" button above to invite your friends and family, traveler forum's members to book this tour with you.
The 'Single supplement' applies for traveler who require their own single room and needs to be added to the tour price.
Note: Amendments CAN be made to this tour to suite your requirements, but may incur price changes
What's Included in 2 Weeks in Vietnam Tour
· 11 nights at hotels with breakfast on a private double/twin sharing room
· 02 nights on a cruise in Halong bay
· Complimentary Vietnam visa pre- approval letter
· Meals mentioned in the itinerary
· Daily buffet or set menu breakfast at hotel and all hotels taxes and service charges
· Entrance fees for all visits as mentioned in the program
· Travel by air-conditioned vehicle with an experienced and safe driver
· Flight ticket 1 routes: HCMC – Hanoi
· Activities as in program
· German speaking guide with legal license
· 01 bottle of mineral water/pax/ day and souvenir
· VAT, all taxes and service charge
What's Excluded:
· Tipping for guide and driver
· Bank fees for both sides
· Vietnam visa stamping (25 USD per pax for one time entry)
· Early check in and late check out at all hotels
· Personal expenses (laundry, telephone, shopping)
· Peak season surcharge or Compulsory Galar dinner at accommodations on Occasions of Christmas and New Year
· Low season discount (normally from May to September)
· Drinks and other meals which are not indicated in the program
· Travel insurance
· International air ticket and airport tax
· Other services which are not mentioned clearly in the "Including" item
SERVICE DETAILS & TRAVEL VISA
Service Details During The Trip
We'll immerse you in the diverse cultures of Vietnam by showcasing the unique local flavors. And with the perfect balance of included sightseeing and free time, you can customize your dream vacation with the things you have always wanted to do.
Private Local Tour Guide You will have legally licensed local tour guide in each destination, from welcome and farewell you at the airport. Your guide will guide, help, assist and taking care of you in order to make your tour worry-free. The good guide for you means we arrange the right guide. Asianwaytravel.com will arrange tour guide base on the feature of the itinerary and consists of the group, to maximize your experiences in traveling.
Private Drivers & Vehicle Safety is first priority for transportation. A well maintained good condition car with legal business licensed and an experienced driver to make sure you are in safe hands. To maximize your comfort and joyful experience with driving service, cold drinking water, cold towel and soft drink are provided in the car.
Local Flavor Meals Don't worry about meals; we select both restaurants and menus for you. Asianwaytravel.com will select clean and good environment restaurants for our customer. Menu is also carefully selected by us to ensure you try different food every meal.
We will recommend and arrange local cuisine since it is part of the cultural experience while traveling. We also recommend dinners are free on your own so you can choose your favorite food by yourself under necessary assistance of your local guide.
Well-Selected Hotels Comfort and good value is our priority for choosing hotels for our customers. Comfort of mattress and bedding, joyful decoration style, user friendly facilities, good service and good breakfast!
Travel Visa
Most countries in South East Asia require you to obtain a visa. Please check carefully with your travel specialist regarding specific visa requirements for each country you plan to visit as the legislation does change frequently. Thailand offers a free visa on arrival to most nationalities. Other countries including Vietnam, Laos, Cambodia and Myanmar offer a "visa-on-arrival" service which requires you to pay a fee at the airport, or you may prefer to obtain this in advance through the relevant embassy or a visa agent. For visa-on-arrival in Vietnam, you must submit some paperwork before you arrive.
This is an option to get your visa for Vietnam instead of getting visa at the Vietnam consulate in your country.
Step 1: Provide us your application details
• Your full name (as exactly seen on your passport)
• Your gender
• Your date of birth
• Your nationality
• Your passport number
• Your passport expiration dates ( valid for at least 6 months)
• Date of arrival ( dd/mm/yy)
• Date of exit (dd/mm/yy)
• Arrival airport
Step 2: Process your visa information into a visa application
We will contact you for reviewing your visa information and then submit your application on your behalf to Vietnam Immigration department and follow other procedures pursuant to the regulations of Immigration department to get Visa approval letter granted by Immigration department.
Step 3: Send the visa approval letter via email to you after 2 working days
After we obtain the visa approval letter from the Immigration department for you, we will forward you a scanned copy of it by email (Your visa information then have been recorded to the Visa system of the Vietnam Immigration department).
Step 4: Get your visa stamp on your arrival
Just print the approval letter out, prepare 2 passport sized photos and an amount of USD for stamping fee ($45 for single entry visa; $65 for 1 month multiple entry visa and $95 for 3 multiple entry visa). Put all above mentioned things along with your passport in a package, then show them to Immigration officer at Vietnam arrival airports.
Upon arrival at Vietnam's airport, expect a simple form to fill in (or you can download here to fill beforehand), present the visa approval letter, passport, photos to the Immigration officer inside the counter and look for a place to hear your name be called to get the passport back and pay for the stamping fee. The actual process takes around 15 minutes without hassle or trouble.
What are the differences between this process and getting visa at Vietnam embassies?
It is only applicable for those who travel to Vietnam by air. You only need fill out the visa application form online instead of visiting the Vietnam embassies or sending documents to Embassies over by post.The online visa application does not require sending your passport away.You get a visa approval letter issued by Vietnam Immigration Department indicating that you are allowed to enter Vietnam and have your visa stamped upon arrival at one of Vietnam international airports.